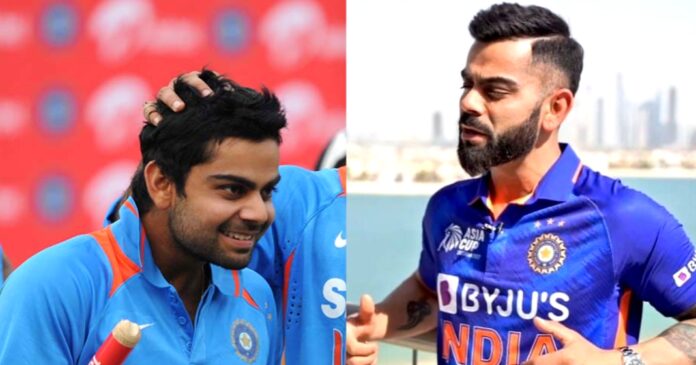 While there is already a huge amount of craze going on for the epic clash that is going to take place tonight in Dubai with the Indian cricket team taking on the Pakistan team in both of their opening match of the Asia Cup 2022.
But other than that, today is also the day that marks Virat Kohli's 100th T20I international match. Virat Kohli has been such a crucial member of the Indian team ever since making his debut.
The star batter has already played over 200 ODI matches and most recently played his 100th Test match. Now it's the turn to touch the landmark number in the T20Is as well. Tonight, when Team India takes field against their arch-rival on the field Pakistan, it will also be Virat Kohli's 100th T20I match.
Virat Kohli made his T20I debut on the 12th of June in 2010 against Zimbabwe. The squad saw some first-team getting rest while Suresh Raina led the team. Batting first, Zimbabwe scored 111 runs in that match which India won by 6 wickets.
Virat Kohli himself played a part in helping the team to win as he scored 26 runs from 21 balls. Today, while almost all of players from that playing XI either has retired or doesn't play for Team India anymore, there are still 2 players who played in Virat's debut match and might also play in his 100th match against Pakistan.
Rohit Sharma
The current Team India captain Rohit Sharma was also present in Virat Kohli's T20I debut match and will be leading Virat in his 100th T20I match. While Rohit plays as a opener now, he played at number 4 in that match and scored 10 runs from 15 balls. He has today went on to establish himself as one of the best opener of the game in the current generation.
Ravichandran Ashwin
Ravichandran Ashwin is other player who was a part of Virat Kohli's T20I debut match and might be part of Kohli's 100th match as well. Ashwin contributed with 1 wicket in his 4 overs in that match but didn't had the opportunity to bat. Ashwin then went on to establish himself as one of the India's really important member in all forms of the game. He was away from the T20I setup most recently but then made a comeback in the series against West Indies and has been included in Team India's squad for Asia Cup 2022.