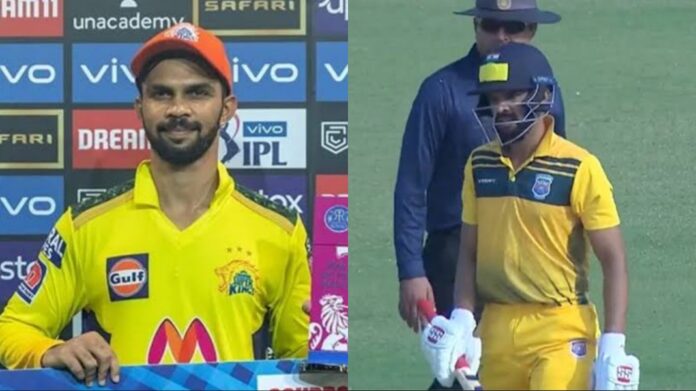 Every batter who starts playing white-ball cricket has two major individual goals. The first is to score a double hundred in the 50-over format, and the other is to win the Best Batter award in any big tournament. The biggest league in white-ball cricket right now is the Indian Premier League. Speaking about the IPL, the batter who scores the most number of runs in a season takes the prestigious Orange Cap award home.
It is the dream of every batter to win this prize. However, it is not every batter's cup of tea because it requires consistency, hard work and skills.
In the entire world, there are only three such batters who have accomplished the feat of scoring a double hundred in a 50-over match and also winning the IPL orange cap. Here's a list of those three names:
1. IPL 2021 Orange Cap winner Ruturaj Gaikwad
Chennai Super Kings star Ruturaj Gaikwad is the latest player to achieve this feat. He won the Orange Cap last year and became the first CSK player to win the title when Chennai ended the season as champions. Earlier this week, he smashed a fantastic double hundred for Maharashtra in Vijay Hazare Trophy quarterfinals against Uttar Pradesh in Ahmedabad.
2. Chris Gayle
Former Royal Challengers Bangalore star Chris Gayle is won the prestigious award in the IPL twice. He also scored a double hundred while playing in the 2015 World Cup.
Representing West Indies against Zimbabwe, Gayle smashed 215 runs. He became the first non-Indian batter to score a double hundred in ODIs.
3. IPL 2010 Orange Cap winner Sachin Tendulkar
Former Indian cricket team batter Sachin Tendulkar was the first player to score a double century in ODI cricket. He accomplished the feat against South Africa in 2010.
In the same year, he also won the Orange Cap while playing for Mumbai Indians. Tendulkar was the first Indian to achieve this feat.