To earn a place on the elite list of Indian Test cricketers is the dream of every individual who starts playing cricket in India. The list of Indian Test cricketers features the likes of Sachin Tendulkar, Kapil Dev, VVS Laxman, Rahul Dravid, Sourav Ganguly, Anil Kumble, Zaheer Khan, and many other legends. To receive the maiden Test cap is perhaps the biggest moment for any cricketer.
Earlier, Test cricket was considered as the pinnacle of all cricket. However, as the time has passed, some fans feel ODI cricket is the most important format now. The reason behind it is that the Cricket World Cup happens in this format. However, a different playing style is needed in both formats.
It is not necessary that a player who does well in the longer format will become a good short format player and vice-versa. Due to this some reason, some Indian Test cricketers never got a chance to play ODI cricket. Here's a look at five of those names.
5. One of the most recent Indian Test cricketers – Shahbaz Nadeem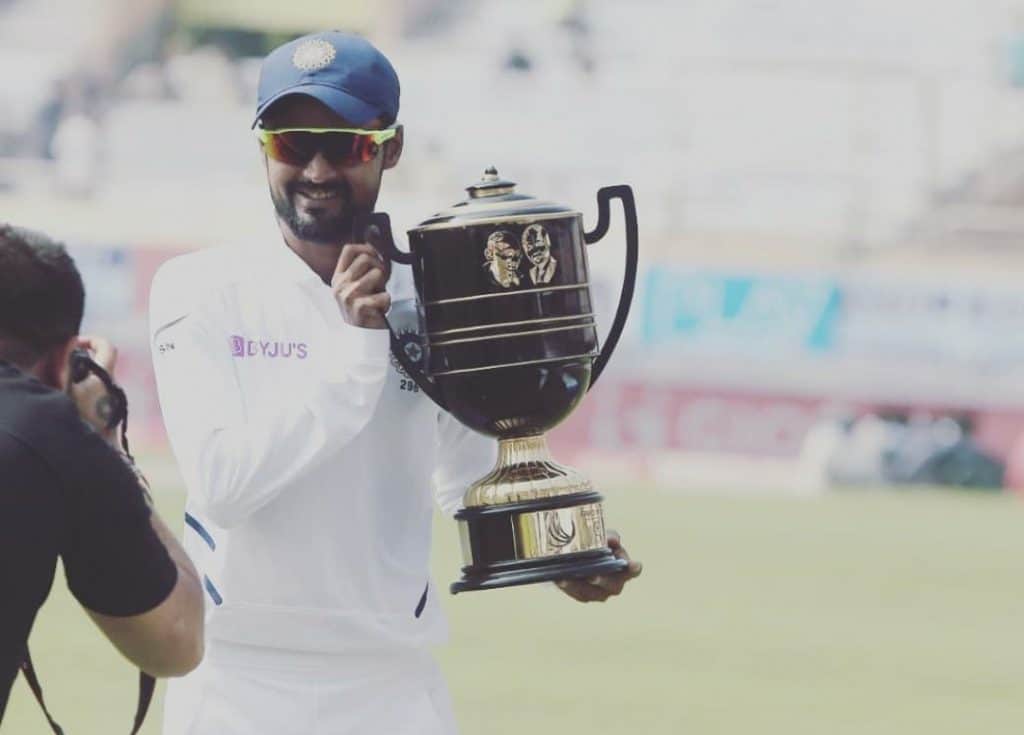 Shahbaz Nadeem received his first Test cap during the 2019 home series against South Africa. Nadeem worked very hard in the first-class arena to break into the Indian squad. He performed well on debut, picking up four wickets.
However, Nadeem lost his place in the squad before he made a comeback in 2021 against England. Unfortunately, Nadeem could not impress much versus England. As a result, he got dropped for the remaining matches. So far, Nadeem has not made his ODI debut.
4. A new hero among the Indian Test cricketers – Hanuma Vihari
Middle-order batsman Hanuma Vihari made a name for himself with a solid performance in the Sydney Test match against Australia. He had a match-saving partnership with Ravichandran Ashwin which helped India draw the game.
Vihari picked up an injury during the game. Still, he continued and saved the match. So far, Vihari has played 12 Test matches for the Indian cricket team and is yet to receive his first ODI cap.
3. Abhinav Mukund
Abhinav Mukund is a domestic cricket veteran, who made his 100th appearance in Ranji Trophy last year. Mukund is a left-handed batsman who generally plays the role of an opening batsman.
Mukund has played for the Chennai Super Kings and the Royal Challengers Bangalore in the IPL. He has even represented India in Test cricket seven times, but he hasn't made his ODI debut yet.
2. Iqbal Siddiqui
Iqbal Siddiqui is a fast-bowling all-rounder to feature on this list. Unlike Abhinav Mukund, Siddiqui got only one chance to represent Team India in Test cricket.
Siddiqui scored the winning runs for India in his only Test appearance. England gave India a target of five runs in the 2001 Test match at Mohali and Siddiqui chased it down in just two balls. It proved to be Siddiqui's only appearance in international cricket.
1. David Johnson
David Johnson is a Karnataka-based cricketer who has played for the Belgavi Panthers in the Karnataka Premier League. Johnson played two Test matches for the Indian cricket team.
He was a right-arm medium pacer, who made his Test debut in the year 1996 against Australia. Unfortunately, Johnson played his last Test in the same year. He picked up three wickets in two Tests, while also scoring eight runs.