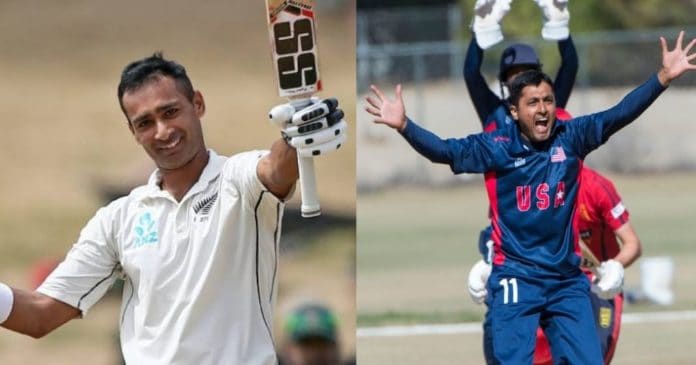 Gujarat plays an important role in Indian cricket. The state has three Ranji trophy teams, namely Gujarat, Saurashtra and Baroda. At the moment, each of these sides has important representations in Team Indians. The likes of Jasprit Bumrah, Ravindra Jadeja and Hardik Pandya all come from the state. Not just for India, the state has also given cricketers to some other nations. In this article, we take a look at six active Gujarat-born cricketers who are playing for other nations at the moment.
In India, it is difficult for a cricketer to make it big. There is intense competition for places and unless a player is consistent at the highest level, it might be hard to have a long career. Although the IPL has provided a commercial relief, for some cricketers, representing the country is the highest priority. While a few players migrate to other nations in search of opportunities, a few settle in different countries due to different reasons.
1) Monank Patel – USA
Monank Patel is one of the active Gujarat-born cricketers who are playing for other nations at the moment. He has also captained the USA and is a regular in the team's setup. So far, the player has been part of 19 ODIs and 16 T20Is.
2) Nisarg Patel – USA
Born in Ahmedabad, Nisarg has also played for the USA cricket team. He is an all-rounder and has represented in the ODI and T20I formats for the nation. The player first made his way into the USA Team in 2018.
3) Timil Patel – USA
Timil Patel is yet another Gujarat-born player who is representing the USA. Interestingly, he played for Gujarat in Ranji Trophy from 2002 to 2010. He has also represented the Indian U19 Team in 2003.
4) Jeet Raval – New Zealand
Jeet Raval is one of the popular active Gujarat-born cricketers who are playing for other nations at the moment. Although he is currently out of frame with respect to New Zealand cricket, the door is still open for him if he does really well in domestic games. A few years, ago, many expected that he would do well for New Zealand in the long run. He played 24 Tests for the country but just could not sustain the initial form. Later, he was dropped from the team. Raval started his career in Gujarat and also played junior-level cricket with former India player Parthiv Patel.
5) Kashyap Prajapati – Oman
The Oman Team is seeing an influx of Indian cricketers in recent tears. Kashyap is a Gujarat-based player who is representing them. He is a right-handed batsman who has already played both ODI and T20I cricket for the nation.
6) Jay Odedra – Oman
Jay Odedra is yet another Indian-origin player who represents Oman. An off-spin bowler, he made his debut in 2018. Although he has been decent in ODIs, he is yet to find success in T20 cricket.