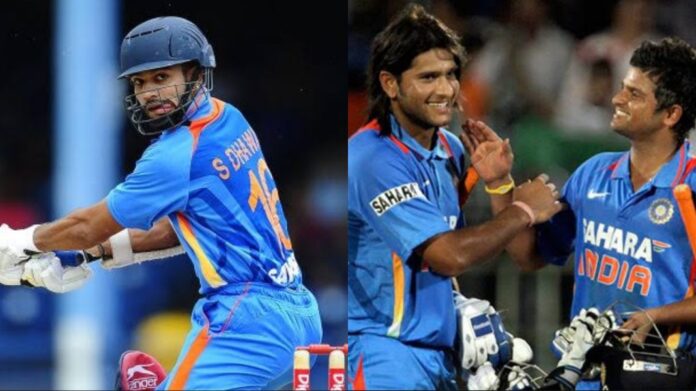 Shikhar Dhawan is currently the captain of the Indian cricket team in their ICC Cricket World Cup Super League series against the New Zealand cricket team. The left-handed batter has achieved enormous success in all three formats of international cricket. He made a grand Test debut against the Australian cricket team, while he has represented the Indian cricket team at ODI and T20 World Cups.
Dhawan made his ODI debut in 2010, T20I debut in 2011 and Test debut in 2013. Here is a list of six Indian cricketers who made their debuts in the same year as Shikhar Dhawan, but they could not make it big.
1. S Badrinath made T20I debut in same match as Shikhar Dhawan
S Badrinath was the Man of the Match in Dhawan's T20I debut match against West Indies. Surprisingly, Badrinath never got to play another T20I match after that.
2. Manoj Tiwary made T20I debut in same year as Shikhar Dhawan
Another right-handed middle-order batter to feature on this list is Manoj Tiwary. The Bengal player played three T20Is for India, scoring 15 runs at an average of 15.
3. Abhimanyu Mithun made ODI debut in same year as Shikhar Dhawan
Fast bowler Abhimanyu Mithun made ODI debut in 2010 and played five ODIs, scalping three wickets. He has retired from international cricket now.
4. Naman Ojha
Naman Ojha made his ODI debut before Dhawan. However, his ODI career lasted only one match. He has retired and plays in T20 leagues now.
5. Saurabh Tiwary
Saurabh Tiwary played three ODIs for India in 2010. The left-handed batter had a great IPL 2010 with Mumbai Indians, but he could not replicate that performance in ODI cricket.
6. Pankaj Singh
Former Indian pacer Pankaj Singh also played only one ODI match for India. He scored three runs and returned with figures of 0/45 in a 2010 tri-series match against Sri Lanka.