The Indian cricket team has improved its Test record significantly in overseas matches. Earlier, the Indian cricket team would struggle to win even one Test match in foreign nations. However, the current team has been regularly winning Test series on foreign soil.
The main reason behind this turnaround has been the rise of the Indian bowlers. India has many top-quality fast bowlers now who can turn the game with their bowling skills. Besides, the Indian squad also has extraordinary spin bowlers who can trap the opposition batsmen with their magical deliveries.
Making Test debut for India is a considerable thing. While any team management would prefer to try new players in home conditions, multiple Indian stars received their maiden Test cap outside India. Still, they tried their best to showcase their skills and nine of them picked a five-wicket haul in their overseas debut series. Here's a list of those nine players.
9. Mohammad Nissar
Mohammad Nissar was a right-arm fast bowler who played Test cricket for the Indian team from 1932 to 1936. Mohammad received an opportunity to don the Indian jersey six times.
He impressed everyone on Test debut against England at Lord's as Nissar picked up five wickets. Although India could not win, Nissar had returned with figures of 5/93 in the first innings.
8. Mulvantrai Mankad
Mulvantrai Mankad was one of the most successful Indian spin bowlers of his era. Mankad played 44 Test matches for the Indian cricket team from 1946 to 1959.
Like Mohammad Nissar, Mankad played his first Test at Lord's. However, his first five-wicket haul came in the second game of that series against England at Old Trafford. Mankad had figures of 5/101 in the first innings of the drawn Test.
7. Venkatesh Prasad
Venkatesh Prasad was another Indian bowler who got his first Test cap in the United Kingdom. Prasad played his first Test at Edgbaston and took a four-wicket haul in the first innings.
In his second Test match at Lord's, Prasad destroyed the English batting lineup with figures of 5/76. He picked up the wickets of Irani, Lewis, Martin, Cork, and Russell to open his account in terms of five-wicket hauls in Test cricket.
6. Mohammed Siraj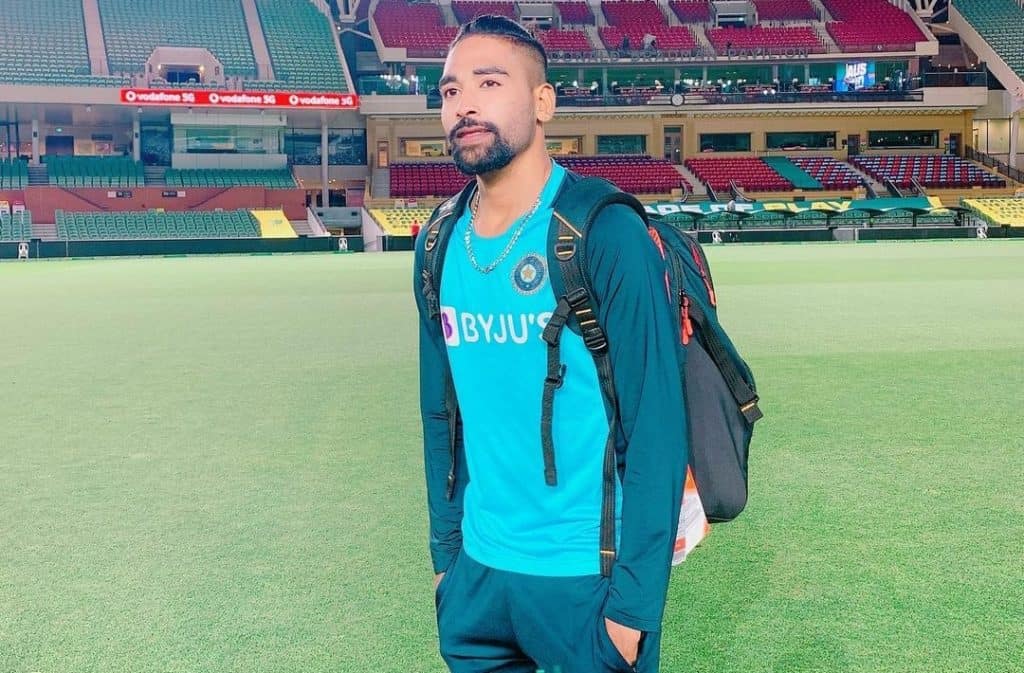 Mohammed Siraj recently made his debut in the 2020 Boxing Day Test match against Australia. The right-arm pacer, who is son of auto-rickshaw driver, overcame all odds to make his Test debut for India.
Siraj achieved his maiden five-wicket haul in his career's third Test match at The Gabba. His five-wicket haul assisted the Indian team in ending Australia's 32-year unbeaten streak in Brisbane.
5. Jasprit Bumrah
Jasprit Bumrah had made his T20I debut in 2016. However, the selectors did not use him in Tests until the South Africa tour of 2017/18. Bumrah made his Test debut at Newlands.
In his third Test, Bumrah recorded his first wicket-haul to set up India's win at The Wanderers. He took total seven wickets in the third Test and dismissed AB de Villiers thrice in his debut Test series.
4. Abey Kuruvilla
Abey Kuruvilla did not have a long Test career. The right-arm fast-medium bowler made his Test debut in 1997 and played his career's last Test in the same year itself.
Kuruvilla scalped 25 wickets in ten Tests for India. He played his first series in West Indies and took his maiden five-wicket haul in the third Test at Kensington Oval.
3. Vivek Razdan
Vivek Razdan has become popular in Indian cricket recently because of his commentary. Razdan had played only two Test matches for the Indian cricket team.
His two appearances came on Pakistan's tour of 1989. Razdan could not take a wicket in the first Test, but in the second Test at Jinnah Stadium, he took five wickets in the first innings. Unfortunately, that proved to be his last Test match.
2. Syed Abid Ali
Syed Abid Ali achieved a distinct feat of taking a five-wicket haul while making his Test debut on Australian soil. In fact, Abid took seven wickets on Test debut.
In the first innings of the 1967 Adelaide Test between India and Australia, Abid took six wickets and conceded 55 runs. He picked one more wicket in the second innings, but Australia won by 146 runs.
1. Ravi Shastri
Ravi Shastri is the coach of Team India right now. The veteran player was one of the top all-rounders of his era. He played his first Test series in New Zealand.
Shastri was a slow left-arm bowler. In his first two Test matches, Ravi picked a total of 8 wickets. In the series' third Test at Eden Park, Shastri claimed his maiden five-wicket haul, taking the wickets of Reid, Howarth, Smith, Bracewell, and Cairns.