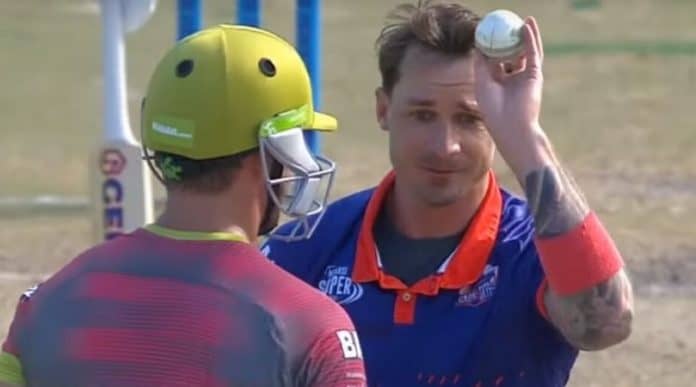 The veteran South Africans involved in a fun moment during 22nd match of Mzansi Super League. In the match between Cape Town Blitz and Tshwane Spartans in Cape Town, Tshwane Spartans batsman AB de Villiers and Cape Town Blitz fast bowler Dale Steyn were involved in a hilarious confrontation.
It happened in the 14th over of second innings while steyn came up to bowl 3rd ball of his 3rd over the 360 degree batsman hit back to him . But steyn can't grab the ball went back towards abd . The batsman came out of his crease and picked the ball. While giving it back to him steyn threw it back to the stumps. Asking for the runout to leg umpire. Even after that abd again picks the ball with a smile but this time he managed to get back to the crease.
In this match Cape Town Blitz put a decent score on the board 157 for 5 in 20overs . The 25yr old South African batsman hit a fifty of 40 balls.
Dale steyn made a hilarious runout attempt against devilliers
Watch the Video Below :
The Spartans while chasing it lost 3 early wickets and the start batsman Ab Devillers caught and bowled to his fellow partner Dale Steyn in the same over where they had fun.
Also Read : Finally Kohli gave a reply to Farokh Engineer
Finally spartans failed to chase the score and capetown blitz won it by 15runs. The speedster was rewarded with man of match award for his remarkable bowling. He got 3 wickets for 10 runs.
Both ab devillers and Dale Steyn made the international debut in the same match back in 2004 and from that day they were the integral part of the South African team. They both played last world cup game in 2015 semifinal against Newzealand where they lost it in last over.