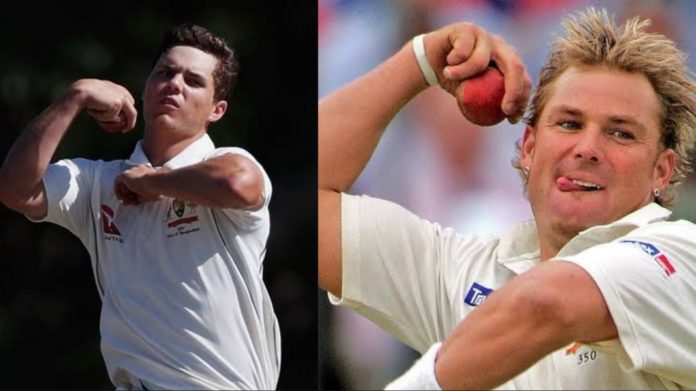 The Australian Test cricket team captain Pat Cummins has confirmed that the squad's new leg-spin bowler Mitchell Swepson will make his Test debut for the country in the ICC World Test Championship match against the Pakistan cricket team at the National Stadium in Karachi. The match is scheduled to start tomorrow and end on March 16.
The first match of the ICC World Test Championship series between the Australian cricket team and the Pakistan cricket team ended in a stalemate. The Aussie pacers were not so effective, and so, the visitors have decided to add an extra spinner in the playing XI for the second match.
Leg-spinner Mitchell Swepson will partner with off-spinner Nathan Lyon in the Australian cricket team's spin-bowling department. Speaking to reporters in an online press conference earlier today, Pat Cummins pointed out how Swepson grew up idolizing the late Australian leg-spinner Shane Warne.
"I think it's quite special that someone like Mitchell Swepson is going to debut tomorrow as a leg spinner who grew up trying to replicate Shane Warne," said Pat Cummins.
It's been a long time running drinks over the last couple of years: Pat Cummins on Mitchell Swepson
Further commenting on Mitchell Swepson, Pat Cummins mentioned how he had been serving drinks to other players over the last few years. The skipper added that the entire Australian squad is pumped for Swepson ahead of his Test debut.
"He's pumped and to be honest, we're all pumped for 'Swepo'. It's been a long time running drinks over the last couple of years, but he's absolutely ready. The wicket here is a little bit drier and historically a bit friendlier for the spinners," he added.
It will be interesting to see how the debutant performs in his first Test match for the Australian men's cricket team.