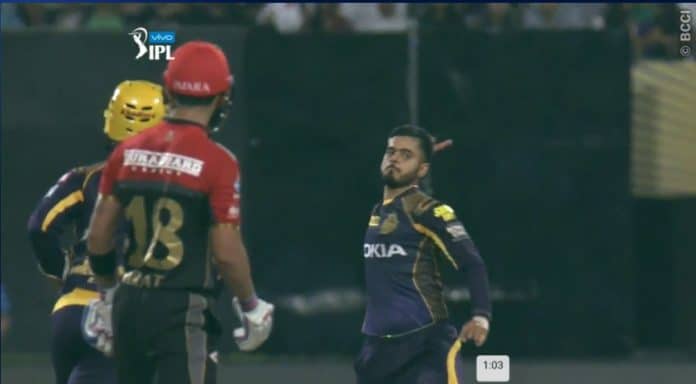 Cricket is always called as "the gentlemen game". There are instance when the statement is proved and some when the players involved are questioned on the spirit of the game. This season had a great welcome from the people. Another season of cricket, another season of entertainment.
The 1st match was a great t20 display by the teams. During the match Hardhik Pandya got hurt will batting, the whole of Chennai Super Kings team was found near him this proved the spirit of game.
But during the 3rd match  between Royal Challengers Bangalore (RCB)and Kolkata Knight Riders (KKR), one instance displayed unhappiness.
It was during RCB's batting, when AB de Villiers was changing the course of the innings. Nitish Rana was introduced into the attack. His 1st over against the superman from South Africa saw him hit for a six. This did not continue as Rana got the wicket of de Villiers. Then soon got Virat Kohli in the same over. Kohli got out scoring 31(33).
These couple of wickets made Rana so much out of control that he went on to abuse the RCB captain. It is great to get the wicket of the world's best batsman, but there must be respect of the game and the players. Talent along with spirit of game will only get a player name in world cricket.
Here's The Video :
Nitish rana abuses #Kohli after dismissing him #IPL #KKRvRCB #IPL2018 https://t.co/vQXpF3oT7U

— swagcricket (@swagcricket) April 9, 2018