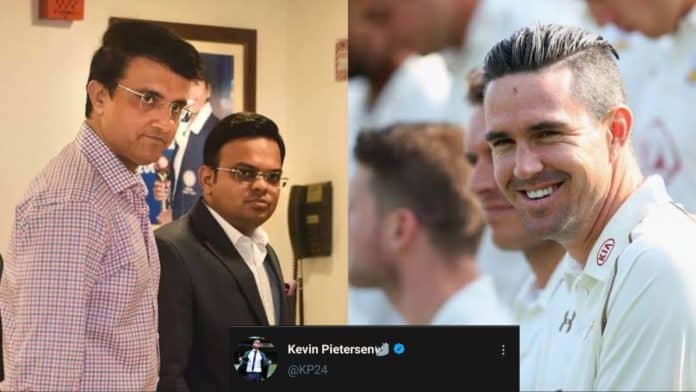 Former England batsman Kevin Pietersen has taken a dig at the England Cricket Board (ECB) after they allowed the England players to participate in the rescheduled Indian Premier League 2021.
The postponement of the IPL 2021 had left England's international stars in a dilemma. IPL 2021 was expected to be finished by the end of May. However, the BCCI and the IPL Governing Committee decided to halt the competition for the time being after numerous players tested positive for Covid-19 within the bio-bubble.
ECB had earlier stated that they wouldn't be sending the English stars in the rescheduled IPL due to international commitments. However, their tour to Bangladesh has been postponed to March 2023. Thus, the England internationals will be a part of the mega-event which resumes on 19th September.
Pietersen took dig to this decision by ECB by asking his followers to find his old tweet.
"Can anyone find my tweet from a few months ago when ECB said none of their players will play the IPL and will have to prioritize International cricket? I think I said, watch this space or something…….," tweeted Kevin Pietersen.
What was Kevin Pietersen's old tweet?
Earlier, when ECB decided not to send their players in the second phase of the IPL 2021, Pietersen came up with a witty tweet. That tweet is now going viral on social media and is creating a buzz.
Pietersen felt that if every England player decides to play in the IPL, they can convince the board. He was the only coveted England player in the IPL during his playing years. He believed that circumstances have changed since then, with elite players now appreciating the significance of the IPL.
"It's going to be interesting to watch how the ECB handle this issue around not allowing its best players to play IPL if it's rescheduled. When I went up against ENG, I was alone. This time, it's all their best-branded players! If they stand together, they'll play IPL!" read Pietersen's tweet.
It's going to be v interesting to watch how the ECB handle this issue around not allowing it's best players to play IPL, if it's rescheduled.
When I went up against ENG, I was alone.
This time, it's all their best branded players!
If they stand together, they'll play IPL!

— Kevin Pietersen🦏 (@KP24) May 12, 2021