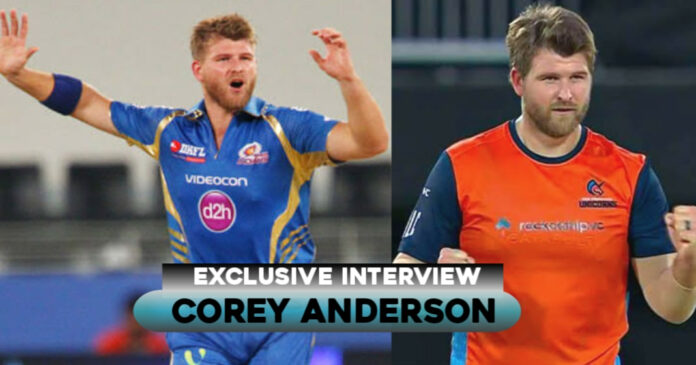 Corey Anderson recently caught up with Swagcricket.com for an exclusive interview thanks to Royal, the sponsor of Major League Cricket. Anderson is one of the most popular cricketers in the world. He came into the limelight after he blasted the then fastest ODI hundred of all time, and soon, played an unforgettable 95-run knock for Mumbai Indians in a do-or-side IPL match against Rajasthan Royals in 2014.
In our chat with Corey Anderson, he spoke about his experience of playing for New Zealand, MI and most recently for San Francisco Unicorns in Major League Cricket 2023.
Excerpts of interview with Corey Anderson
Swagcricket: Hey Corey! How has been life in the USA? How have you been doing?
Corey Anderson: Life has been great here in the US. I had been coming back and forth to the US for several years in-between tours and comps, but to now be based in Dallas with my family is really satisfying.
Swagcricket: As cricket fans from India, the thing we remember about Corey Anderson the most is your 95-run knock for MI in a do-or-die match against RR. Tell us something about that miraculous knock.
Corey Anderson: It was a pretty incredible game, obviously great to be involved from a performance standpoint. It was one of those games where it was always going to be extremely difficult to win given the situation, we found ourselves in, but sometimes when that's the case you are almost more relaxed because the expectation of chasing something like that down is that it is close to impossible.
We had numerous guys play great cameos that all added up to the last ball with Aditya Tare hitting the six to win it for us. These games don't repeat themselves often, so it was a pretty special memory.
In History of IPL – Only Once 190 or more runs chased under 15 overs 💥#OnThisDay in 2014

MI Chased 190 target in 14.4 overs!

When Boundary needed in last ball, Aditya Tare Smashed Six & MI Qualified In Playoffs 💙

Corey Anderson Received M.O.M Award For His 95* knock pic.twitter.com/2xboUJEO9v

— 𝑺𝒉𝒆𝒃𝒂𝒔 (@Shebas_10dulkar) May 25, 2022
Swagcricket: Congratulations on winning Man of the Match for San Francisco Unicorns in MLC. How did it feel scoring 91* against MI New York, considering your history with MI?
Corey Anderson: It was very satisfying not because it was against MI, but over the past couple of years, this is what we have been working towards and after leaving New Zealand and moving to the US, people tend to think that you're fully retired, and you've lost the ability to play the game, so to silence some of those critics and give myself the belief that I can still play at a high level was very rewarding.
Swagcricket: Tell us something about your experience at San Francisco Unicorns. How is it playing under the captaincy of Aaron Finch?
Corey Anderson: I've absolutely loved my time with the Unicorns, obviously disappointed about the result, but over a short competition sometimes that's how it works. They made us feel comfortable from day 1 and allowed us to express ourselves on the field.
I've played against and alongside Finchy a handful of times now, so it was great to have him leading the side. He's extremely experienced and has great knowledge of the game.
Swagcricket: You've played under the captaincy of some world-class leaders like Kane Williamson, Brendon McCullum, Aaron Finch, Rohit Sharma, and Virat Kohli? Under whose captaincy, you enjoyed playing the most?
Corey Anderson: All are obviously unbelievable players and great captains, but the one I played under the most was Brendon McCullum. He has a great ability to get the most out of his players and give them a huge amount of belief. He doesn't reinvent the wheel when it comes to captaincy or leadership, he just makes you enjoy playing the game and enjoying the moments off the field as well.
Local hero, Corey Anderson, shows supreme class during his first #MajorLeagueCricket outing, scoring 91*(52)! 🤗 We'll never know what would've happened if he was given 2️⃣ more balls before innings break!!! pic.twitter.com/ZpzjNR6TRG

— Major League Cricket (@MLCricket) July 15, 2023
Swagcricket: T20 World Cup 2024 is expected to happen in the USA and West Indies next year. Your thoughts on the growth of cricket in the USA, especially with the MLC coming up this year?
Corey Anderson: It's a huge opportunity for the US to continue to make massive strides in the global game. With MLC gaining fantastic attention over the past several weeks, and some of the best players in the world taking the stage, it gives Americans an opportunity to see why this is the second biggest sport in the world, and to finally see a product that the youth can now strive for.
With it being a developing sport in the US, It's important to continue growing that from the grass roots. We've been extremely lucky with sponsors like Royal being onboard to help grow the game from a commercial aspect too.
Swagcricket: What is the secret about your big-hitting in cricket? It has been a decade, but very few batters can hit big 6s like you consistently.
Corey Anderson: There's no secret. The game has evolved over the years and boundaries have become more and more frequent with higher scores and better pitches.
The position I play requires me to be able to find the boundary and it doesn't always happen, but when you get in a certain situation and you've done your preparation, things start unfolding from there. I'm lucky it's one of my strengths, and the teams I've been involved with have allowed me opportunities to show that.
Swagcricket: Who has been the toughest bowler to bat against? Also, who has been the toughest batsman to bowl against in your cricket?
Corey Anderson: Thankfully he's retired, but Dale Steyn. He's one of the legends of the game. Also retired, but Chris Gayle was a nightmare to bowl against. He was very intimidating, and you knew what he was trying to do but hard to execute to someone with so much power.
Swagcricket: Your all-time T20 XI.
Corey Anderson: 1. Chris Gayle 2. Shane Watson 3. Virat Kohli 4. AB de Villiers 5. Jos Buttler 6. Andre Russell 7. MS Dhoni (c and wk) 8. Rashid Khan 9. Sunil Narine 10. Lasith Malinga 11. Shane Bond
Swagcricket: What is your major goal in your new journey of cricket in the USA?
Corey Anderson: I don't think I have a specific goal necessarily, I know when I first came over, the big thing for me was to be able to create and be part of a legacy that we could look back on and be proud of, and that hasn't changed.
There is still a lot of work to be done, but hopefully with the right people in place, USA can be one of the powerhouses of cricket in years to come.