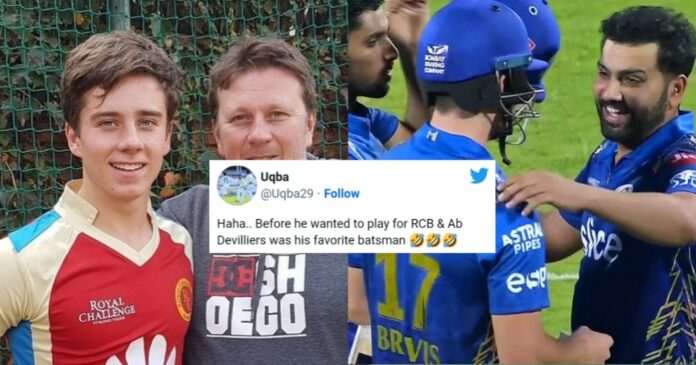 Young South African batsman Dewald Brevis is talked about huge and is expected to be South Africa's one player to watch out for in the future. He is already performing at a level of maturity that is making him really talented and one to keep an eye on.
Brevis first shot to limelight in the ICC U19 Cricket World Cup in 2022. He was the player of the tournament and was the most run scorer of the tournament. Soon after, he was bought by the Mumbai Indians in the IPL 2022 Mega Auction.
He was also one of the brightest spot in a really dark season for the team, who finished bottom of the points table.
However, it is Brevis' statements that is keeping in mud. Before he had joined Mumbai Indians for the IPL 2022, he had said that Royal Challengers Bangalore (RCB) is favourite team as his idol AB de Villiers use to play for them. However, he changed that statement later and said Mumbai Indians is his favourite team.
And now, he is again talk of the town when he changed his idol also. While before joining he said that AB de Villiers and Virat Kohli is his idol, he has now changed that to his Mumbai Indians teammate Rohit Sharma and Suryakumar Yadav. This behaviour of his has not gone well with the fans.
Dewald Brevis said – "I idolised Rohit Sharma and Suryakumar Yadav a lot". (To India Today)

— CricketMAN2 (@ImTanujSingh) January 22, 2023
Before ipl he wanted to play for RCB 😄

— Suleman (@Suleman_11_) January 22, 2023
Haha.. Before he wanted to play for RCB & Ab Devilliers was his favorite batsman 🤣🤣🤣 https://t.co/nxTboUilmH

— Uqba (@Uqba29) January 22, 2023
Ye statements prior to ipl kaafi different the 😬

— सक्षम¹⁸ (@18kingVk) January 22, 2023
Before IPL Auction "I Idolised Virat Kohli and Abd a lot"
But now…. https://t.co/QM2XsU9sih

— Tweets Those blurred my Vision (@74thTon) January 22, 2023
Before ipl
He told about kohli and abd😬

— Sivkrizh (@SiV_kRiZh) January 22, 2023