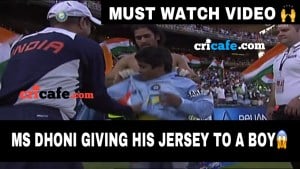 Generally, a match between India and Pakistan is considered to be the most serious cricket hunt of all time. And this incident of MS Dhoni with a fanboy happened during the 2007 ICC World Cup T20 tournament. After winning the match, Dhoni gave his jersey to a fanboy who was a spectator during the match.
A Throwback To The Match
Via: Sportskeeda
This match will stay in the hearts of every Indian Cricket fan forever. Having won the toss, India elected to bat first. Gautam Gambhir who happened to score 75 runs of just 76 balls, helped to put 157 runs on the scoreboard. Pakistan who came to chase a cheeky target gave their best until the last over.
The Final Over Drama
After the wicket of Umar Gul in the 19th over, everyone was curious to know about the last over. At that time, MS Dhoni handed over the ball to Joginder Sharma to bowl the last over. This was quite surprising even for Pakistan.
Via: Cricketcountry.com
When Pakistan needed 6 runs of 4 balls, Joginder Sharma was about to bowl for Misbah-Ul-Haq on the striking end. And that ball turned out to become history. Joginder bowled, and Misbah who attempted a scoop shot over fine leg; got caught by Sreesanth. India won that nail-biting final match by 5 runs at the end.
The Fan Boy and MS Dhoni
After the epic win against Pakistan, the whole teammates were celebrating throughout the ground. Not only players but also the spectators in the stands were seemed to be celebrating their team's win over Pakistan. At that time, Dhoni was roaming the ground all around.
Copyright: Hotstar.com
Meanwhile, a boy who was a fan of MS Dhoni; asked his jersey as a memoranda for him. Dhoni who heard his voice called him down to the ground; and gifted him his jersey he wore that day. He removed his jersey and not only gave to him, but also helped him wore the same. Being as a captain for the Indian Cricket Team, this man possessed no ego in his attitude. And I hope that's why, this man is hated by thousands but loved by millions of cricket fans despite of country barrier.
You can watch the rare video of this incident here below!
Rare footage of ms Dhoni #MSDhoni #INDvAUS pic.twitter.com/XkOYOKPLxe

— Dhoni Believers (@DhoniBelievers) September 24, 2017
MS Dhoni giving his jersey to a fan boy
©SwagCricket2018