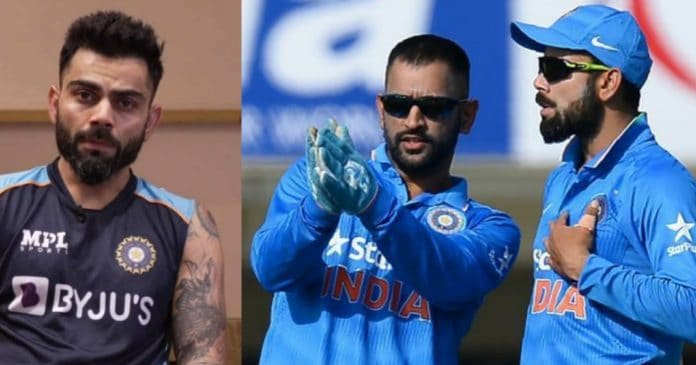 Virat Kohli, in a recent media exchange, specified the impact that MS Dhoni could have on India. A few weeks ago, BCCI had announced that Dhoni will join Team India as a mentor for the T20 WC. In this article, we take a look at what Virat Kohli said regarding MS Dhoni's role as Team India's Mentor in the T20 WC.
India will be under pressure to deliver results
Team India will be under immense pressure to win the T20 WC. It has been a while since the men in blue have done well in an ICC event. Moreover, most players have played almost one-and-half seasons of IPL in UAE. Hence, Team India will be expected to adapt faster than the other teams to the pitch conditions.
It will also be Virat Kohli's last tournament as India's T20I skipper. A few weeks ago, Virat had announced that he would be giving up his T20I captaincy after the T20 World Cup.
MS Dhoni will have a big role as Team India's Mentor in T20 WC
Virat Kohli talked about what MS Dhoni could bring to the table in the Mentor Role. He said, "We're absolutely delighted to have him back. His presence will certainly boost the morale of the team even further and give us even more confidence than we have as a team."
Virat felt that MS will have the chance to work with a few young cricketers who will be playing a major competition so early in their careers. The Indian skipper said that they would like to use MSD's experience, which he has accumulated over the years.
Dhoni recently led CSK to its fourth IPL trophy and hence, will be high on confidence. The management will hope that this gets rubbed on to the players.