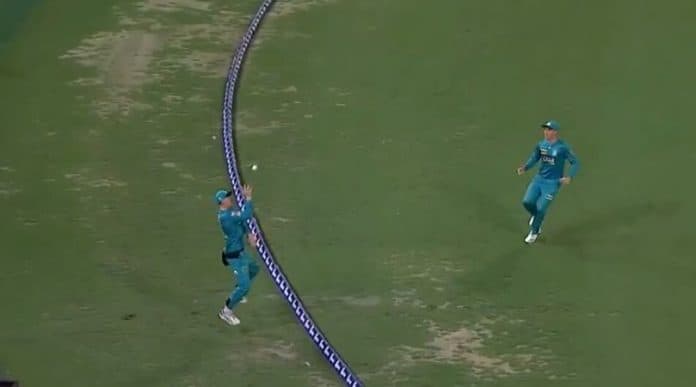 BBL never fail to entertain us. Those big boundaries is a privilege to see some big sixes as livingstone hit a big six after getting hit on his private part. Lol!
This time it's a different story in BBL . In the 29th match of BBL Between Horbart hurricanes and brisbane heat. After winning the toss hurricanes elected to bat first.
As it happened? In the last ball of 15th over from ben cutting where wade tried to connect it over the long on but didn't get enough of that. The ball is sailing sailing sailing towards the boundary rope and falls in the hand of Renshaw. but he had to toss the ball in the air to maintain his balance while running backwards into the boundary.
In a bid to make sure that he prevented a six, Renshaw jumped in the air whilst inside the boundary and tapped the ball towards Banton who had ran to his right from deep mid-wicket.
While banton completed the catch, it was only after numerous replays that Wade was ruled out. It is worth mentioning that such a catch would have been deemed as not-out in the past for a fielder's last point of contact had to be inside the playing area.
It was a recent change in the rule which worked well for Renshaw and allowed him to tap the ball from outside the playing area.
After the captain departs for 61 they have managed to score only 126 runs.
As Brisbane came into bat they started to fall one by one at regular intervals at one stage they were 71/5 at the end of 11 overs. Yet again it was ben cutting who gave the trouble to the hurricanes. He scored 43 runs at a strike rate of 148 which includes 3 sixes and 3 boundaries. He ensured the win with 10 balls left. After 4th win they moved into 3rd spot.
Watch Video Below: