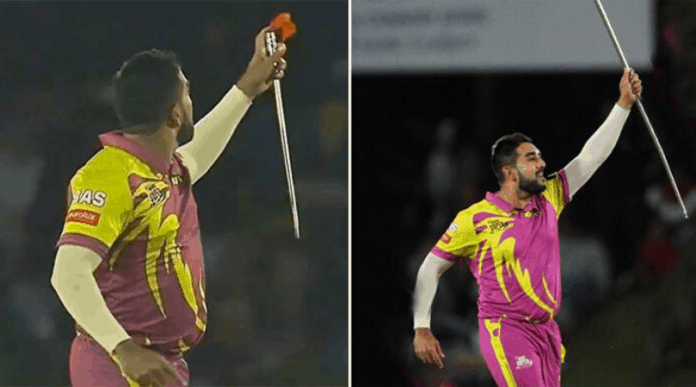 The South African leggie known for his magic celebration. Always one to come up with unique, over-the-top celebrations, Shamsi has been doing the mask celebration throughout the Mzansi Super League while on duty for the Paarl Rocks while he also used it in the Caribbean Premier League.
It didn't last long, though, with the ICC having informed Shamsi before the Rocks' clash against the Tshwane Spartans on Wednesday that he was no longer allowed to celebrate in that way. But this time he came up with a new trick. During the 24 the match in Mzansi premier league 2019 between Paarl rocks and Durban heat. While bowling last ball of eight over Lubbe came down the crease to smash a boundary but failed to connect it which fall in the hands of Viljoen inside the 30-yard circle.
After picking his wicket chinaman bowler celebrated it by taking a red handkerchief from his pocket and converted it to a magic stick. Often sports news is highlighted with word magic whenever he picks a wicket.
Shamsi does magic in Mzansi premier league
MSL's official handle tweeted the video of the incident and captioned the post as, "WICKET! A bit of magic from @shamsi90 #MSLT20."
Watch the Video Below:
Even the spinner picked two big wickets he can't change the misfortune of his team. Durban heats won the match by 6 wickets with 7 balls left.
The England opener alex hales is impressive tonight smashed 97 runs from 55 balls and kept his wicket till the last ball.
Also Watch : Dale steyn made a hilarious runout attempt against devilliers