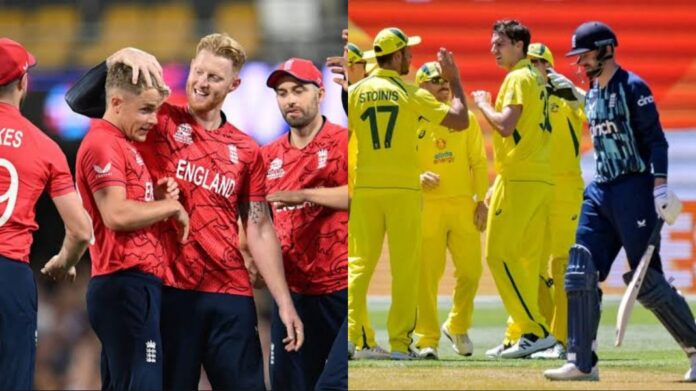 Winning an ICC event is the dream of every cricket team. The International Cricket Council organizes many competitions. The two major ones are the T20 World Cup and ODI World Cup. Of late, Champions Trophy and World Test Championship have also gained prominence in the world of cricket.
Every cricket team works hard to qualify for an ICC tournament first and then to win it. Momentum is one of the most important things at the multi-nation competitions. Recently, fans saw how Pakistan and England bounced back from defeats against Zimbabwe and Ireland respectively to make it to the final of the T20 World Cup 2022 tournament.
Fans might have noticed that some teams tend to get relaxed after the big events end. The ones which lose start working for the next tournament from the next day itself, but the ones who win the competition tend to go on vacations and parties. It is comparatively a little tougher for the players to regain their focus after a big win.
In this listicle now, we will look at two such instances when a team became the champion of a major event but got squashed in a bilateral series played soon after the event.
1. ICC T20 World Cup 2022 winners England
England made history by becoming the second team to win the T20 World Cup twice. They won their second title earlier this month in Australia. Soon after the mega event, the English team played against the Aussies in a three-match ODI series. A majority of the top names missed this series for England, resulting in a 0-3 defeat at the hands of the 2015 World Cup champions.
2. Sri Lanka
Getting whitewashed in the next bilateral series after being champions of an ICC event:

Sri Lanka🇱🇰 in 2002 CT
Next series: Lost 0-2 in Tests v SA

England🏴󠁧󠁢󠁥󠁮󠁧󠁿 in 2022 T20 WC
Next series: Lost 0-3 in ODIs v AUS
(excluding one-offs)#AUSvENG

— Kausthub Gudipati (@kaustats) November 22, 2022
Back in 2002, Sri Lanka emerged as the joint winners of Champions Trophy 2002 with India. After that tournament, the islanders played a two-match Test series against South Africa. In that series, the Proteas emerged victorious by a scoreline of 2-0.