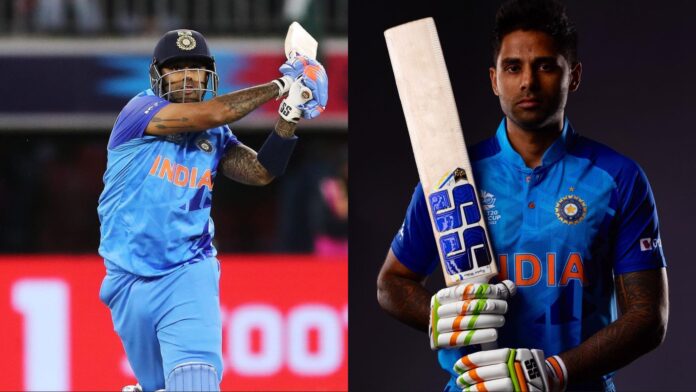 T20I cricket is one of the most challenging formats of the game. It is very tough for a cricketer to score runs consistently in this format. The reason behind it is that the players not only need to score runs, but they need to do so at a quick rate. Very few players have been able to achieve mastery in scoring runs at a quick rate in T20I matches.
Generally, teams like to have the batters who can score runs at a strike rate of around 125 to 150, but there are some extraordinary talents who have managed to keep their strike rate in the range of 175. In this article now, we will list down the only two cricketers in the world right now, who have scored more than 100 runs and have a career strike rate of more than 175.
1. Suryakumar Yadav
Current world number one T20I batter Suryakumar Yadav has aggregated 1,270 runs in his T20I career so far. He made his debut against England last year and has quickly become one of the best batters in the world. Speaking of his stats in international cricket so far, Yadav has a strike rate of more than 175. Here's what he had to say about his success so far:
"I think looking at the boundaries ahead, they are about 80-84 metres, the square boundaries are also bigger about 75-80 metres. Only place where the boundary is short, is behind that is 60-65 metres, so just trying to explore that and have been succeeding so far."
2. Hasan Ali
Most runs in T20I format with 175+ SR
(full member teams)

1270 – Suryakumar Yadav*
129 – Hasan Ali
90 – M Bracewell
79 – S Kuggelejin
69 – Shardul Thakur

Unreal 😮#T20WorldCup

— 𝑺𝒉𝒆𝒃𝒂𝒔 (@Shebas_10dulkar) November 7, 2022
Pakistan fast bowler Hasan Ali also has a strike rate of more than 175 in the shortest format of the game. Ali has scored 129 runs in 19 innings at a strike rate of 186.
Speaking of the players with less than 100 runs and a strike rate of 175 in this format are Shardul Thakur, Scott Kuggeleijn and Michael Bracewell.