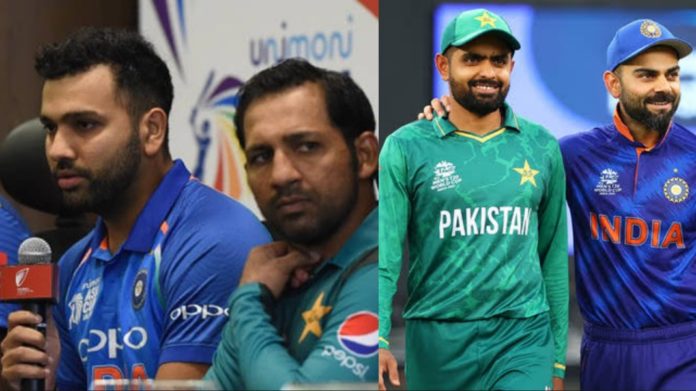 India vs Pakistan cricket matches have always entertained the fans across the world. The two arch-rivals have had an exciting rivalry. They do not play against each other regularly, but whenever they meet at the multi-national tournaments, the entire cricket universe comes to a standstill.
This year, at least two cricket matches will take place between the two nations, one in Asia Cup and one in T20 World Cup. So far, the Men in Blue and Men in Green have played lots of matches against each other. There have been close matches, and some captains have a great record in such high-pressure matches.
In this listicle now, we will look at the three captains who never lost in such cricket matches.
1. Babar Azam is yet to lose in India vs Pakistan cricket matches
Current Pakistan captain Babar Azam has led his nation in just one game against the Men in Blue so far. It was during the ICC T20 World Cup last year in the UAE, where Pakistan registered their first-ever win over India in Cricket World Cup history.
It will be interesting to see if Babar can maintain his undefeated record against the Indian cricket team when the two nations meet on August 28.
2. Rohit Sharma is yet to lose in India vs Pakistan cricket matches
Current Indian skipper Rohit Sharma is also undefeated against Pakistan. He has captained India in two ODIs against Pakistan, registering wins in both of them. Either Babar Azam or Rohit Sharma will lose his unbeaten record when Pakistan and India meet on 28 August.
3. Saleem Malik
Former Pakistan player Saleem Malik led his nation in two ODIs against India in 1994 and Pakistan won both of them. Even former Pakistan batter Younis Khan has a 100% win record in ODIs against India, but his win percentage in Tests is less than 50.