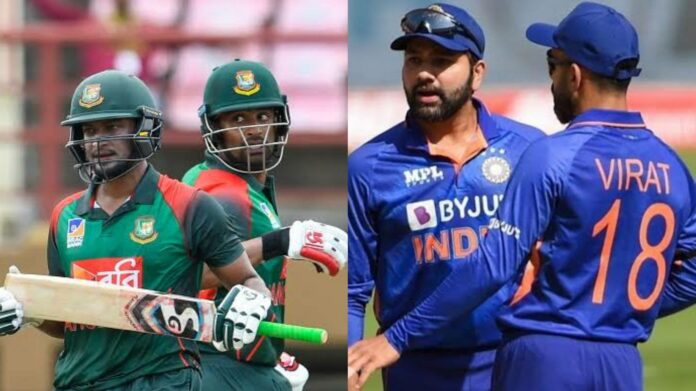 The World Cup season is starting soon. We are less than 10 days away from the first match of this year's WC between defending champions England and the last two editions' runners-up New Zealand. Squads of almost every team have been announced, while a few teams have already reached India to get adjusted to the conditions before the mega event.
This tournament receives the highest viewership among all international tournaments. Fans from across the world tune in to watch the games live. However, it is also a period, where the players are under pressure. The fans have plenty of expectations from the players, and sometimes, the individuals end up losing their cool in tough situations.
Ego clashes are not new in cricket. Here's a list of three such instances when the player of the team had a rift with the captain during World Cup season.
1. Tamim Iqbal vs Shakib Al Hasan fight before 2023 World Cup
In case you didn't know, Bangladesh are yet to name their squad for the upcoming WC in India. Bangladesh participated in Asia Cup and is currently playing a three-match ODI series against New Zealand. Shakib Al Hasan is captain of the team, and reportedly senior batter Tamim Iqbal has said that he will play only five matches in WC 2023 due to back issues.
Shakib has reportedly told the Bangladesh Cricket Board (BCB) that if Tamim Iqbal is picked in the squad, he will step down as the captain and not participate in the WC.
2. Virat Kohli vs Rohit Sharma clash in 2019
Rumors were rife in 2019 that the captain Virat Kohli and vice-captain Rohit Sharma are not on the best terms. Although both cricketers later trashed the rumors, there have been murmurs that all was not well between the two captains. A report also surfaced claiming that Team India was divided into Team Virat and Team Rohit around the 2019 WC season.
3. Babar Azam vs Shaheen Afridi fight in 2023
After Pakistan's early exit from Asia Cup 2023, a report surfaced online stating that the team's fast bowler Shaheen Afridi had an argument with captain Babar Azam in the dressing room after the match against Sri Lanka. The report claimed that Mohammad Rizwan had to separate the duo.