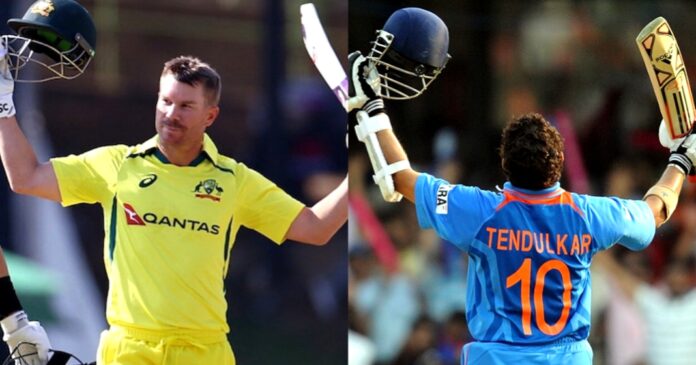 David Warner made a remarkable achievement in cricket history during the second ODI against South Africa at Mangaung Oval in Bloemfontein on Saturday. He batted aggressively and scored 106 runs from 93 balls, helping Australia reach a huge total of 392/8 after South Africa chose to bowl first.
What's even more impressive is that with this century, Warner now holds the record for the most centuries by an opening batsman in international cricket, surpassing the legendary Sachin Tendulkar.
This was Warner's 20th century in One Day Internationals (ODIs), and he's achieved all of them as an opener. Overall, this was his 46th international century.
Tendulkar has now dropped to second place in the list with 45 international centuries as an opener. The veteran West Indies opener, Chris Gayle, is in third place with 42 centuries when opening the innings.
It's interesting to note that Tendulkar's batting position evolved during his career. He initially batted in the middle order but was later promoted to become an opener in ODIs after a few years. However, for most of his Test career, he played as a number 4 batsman.
Besides Warner's impressive performance with 12 fours and three sixes, Labuschagne also delivered an outstanding century against South Africa. Labuschagne scored 124 runs in Australia's total of 392 for eight after they were asked to bat first. His innings included an impressive 19 fours and a six.
Warner and Labuschagne formed a formidable partnership for the third wicket, adding 151 runs in just 124 balls. Warner achieved his 20th one-day international century in 85 deliveries during this partnership.
In addition to Labuschagne's performance, Warner and Travis Head were ruthless against South Africa's fast bowlers in the opening partnership. They put together 109 runs in just 72 balls, with Head contributing 64 runs from 36 balls, which included nine fours and three sixes.
Meanwhile, South Africa, despite all their efforts, were in the end all out for just 269 runs and lost the match by 123 runs. Quinton de Kock and Temba Bavuma gave South Africa a good start, but after they both went back to the pavilion, other batters failed to contribute. Despite Klassen and Miller scoring 49 runs each, that was not enough though. With that win, Australia have taken a 2-0 lead after 2 matches in this 5 match ODI series.