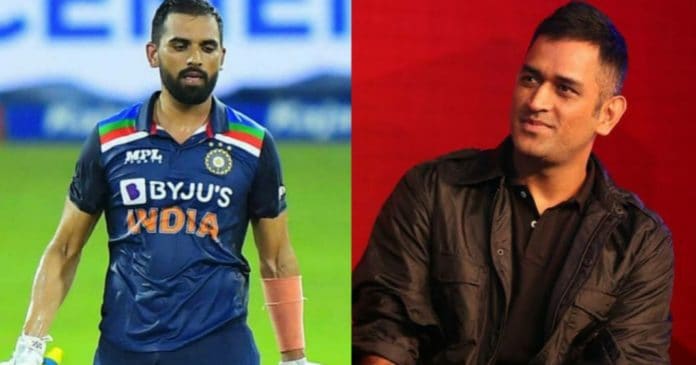 Deepak Chahar surprised everyone recently with his batting skills. When India toured Sri Lanka recently, Chahar's show with the bat helped India win an ODI game. Deepak Chahar reveals MS Dhoni's message after the innings when he was talking about it to CSK.
India won the second ODI in Sri Lanka mainly due to the CSK player
Although India won the first ODI convincingly, the second game came down to the wire. India was chasing, but due to an inexperienced middle-order, wickets were falling quickly. It was then that Deepak Chahar and Bhuvneshwar Kumar stitched a partnership. For the eight-wicket, the duo added 84 runs and helped the visitors take lead in the series.
It was Deepak Chahar's stunning show with the bat that was the highlight. He scored 69* and was the main contributor to the partnership. Not many knew that the Rajasthan player could do so well with the bat. Hence, it was a surprise when fans saw that the player could time the ball well.
Deepak Chahar reveals MS Dhoni's message
Chahar is currently in Dubai preparing for the UAE leg of IPL 2021. He talked about that innings to his franchise CSK. The swing bowler said that he tried to target the weak links in Sri Lanka's bowling attack and eventually, this strategy paid off. He also said that MS Dhoni messaged him after the game. Deepak said, "After that innings, he (MS Dhoni) messaged me for batting- 'Very well played!' so that was a very good moment for me."
It was surprising that Deepak Chahar was not included in the final 15 for the T20 World Cup. He is one of the standby players for Team India in the tournament. Considering he is in good form, the selectors could have tried him out. Moreover, his improved batting skills would have added depth to the batting line-up.