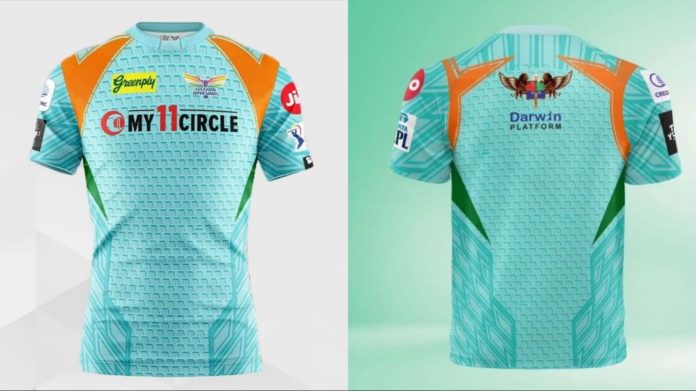 The Lucknow Super Giants unveiled their brand new kit for the 2022 edition of the Indian Premier League earlier today on social media. The Lucknow-based franchise hyped up the jersey reveal and the new theme song. Fans waited for it for a long time, and they have finally seen the colors that KL Rahul and his men will wear in this year's IPL.
Unlike the other IPL teams, the Super Giants have opted teal as their primary color. Big Bash League club Brisbane Heat has a similar color. Even the New Zealand cricket team uses this color in their retro kits. There is a touch of the Indian tricolor on the sides of the jersey.
LSG detailed the meaning behind the jersey in a special social media post. They first mentioned that the teal color is a much younger, fresher aqua color which is synonymous to the squad that is full of energy.
Next, they stated that there is a 3D line work representation near the sleeves, which is the representation of Garuda (vehicle of Lord Vishnu).
The designers have strategically placed the line work on the sleeves to enhance the male body contours. The extension of the saffron and green colors symbolize the colors that are present in the team's logo. Also, the scales in the middle portion are double scales, signifying the fearlessness of the Lucknow team.
Lucknow Super Giants took inspiration from their logo and the mythical Garuda for their jersey
The Super Giants added that their jersey's inspiration was the Garuda bird who is famous for his force, speed, knowledge and bravery. You can see the jersey with the complete interpretation right here:
The first-ever Lucknow Super Giants jersey is finally here!🙌#AbApniBaariHai

Jersey design: Kunal Rawal

For the official Lucknow Super Giants match jersey, visit https://t.co/Yc3tDZzyr7@thesouledstore#LucknowSuperGiants #UttarPradesh #Lucknow #TataIPL #JerseyReveal pic.twitter.com/y6wQlDLUJk

— Lucknow Super Giants (@LucknowIPL) March 22, 2022