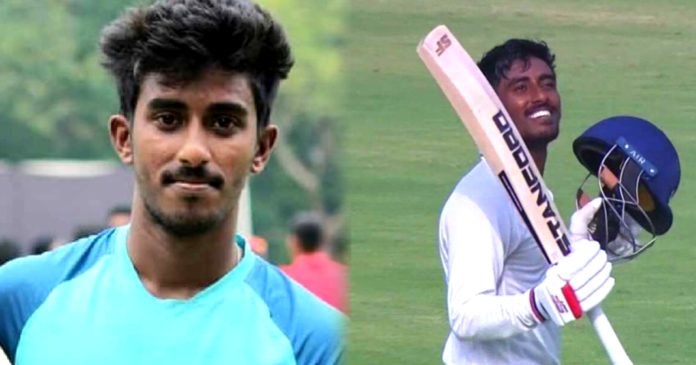 Bengal is facing Jharkhand in the first quarterfinal of the Ranji Trophy 2022 season and by the end of the first day's play, Bengal's team has strengthened its hold on the match and if the credit goes to any player then his name is Sudip Kumar Gharami.
Gharami scored a century for Bengal in the do or die match and put them on the driving seat. At present, Gharami is also unbeaten at the end of the day's play on 106 runs in 204 balls and he would be hoping to convert the century into a big score on the second day. At the end of the first day's play, Bengal scored 310 runs in 89 overs for the loss of 1 wicket.
After scoring a century in the match, Sudip Kumar Gharami has come into limelight immediately and people have also started searching about him on the Internet.
If you also want to know more about Gharami, then let us tell you his story.
Gharami lived in a mud house before the year 2020 and the condition of his house was also very bad. His father works as a mason while his mother is a housewife. If you see Gharami playing at this level today, then BCCI President Sourav Ganguly has a big hand behind it. Ganguly had seen him playing in an under-23 tournament, after which, he got the player fast-tracked to refine him.
The money he earned after winning the U-23 tournament in 2019 helped him build wealth. Gharami himself told a website while narrating his story, "I was born in Naihati and wanted to be a cricketer from a young age. We didn't have enough money. My father worked as a mason. But he really wanted me to become a cricketer. He gave me everything I wanted, he used to borrow money from people."
It is obvious that if a young player living in a mud house is playing cricket at a big level today, then his hard work has a big hand behind it and at the same time, if Dada had not been with him, then perhaps he would have taken more time to reach here.
Talking about the match, Bengal captain Abhimanyu Easwaran scored 65 runs before he was dismissed, while his opening partner Abhishek Raman had to be retired hurt. While Sudip Gharami has already reached his Hundred, Anustup Majumdar is alongside him and would want to complete his Century too.