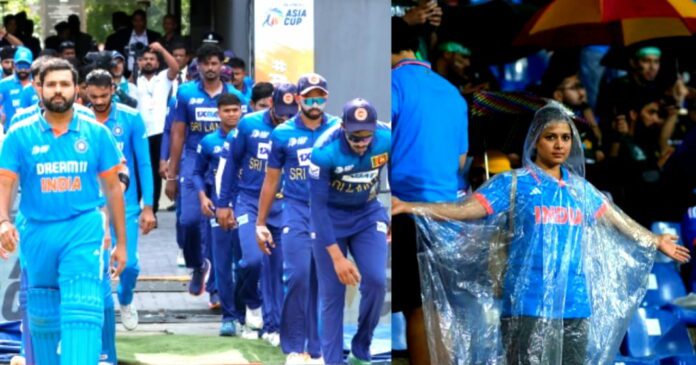 On Thursday, September 14, Sri Lanka won one of the most thrilling match against Pakistan in Asia Cup 2023, keeping their hopes alive to defend their Asia Cup title. This victory secured their spot in the Asia Cup final, which is set to take place on Sunday, September 17.
In the final showdown, Sri Lanka cricket team will face the Indian cricket team, who have won the Asia Cup seven times before, the record most the in the history of the competition.
The big final between India and Sri Lanka is scheduled to take place at the R Premadasa Stadium in Colombo. Although there's plenty of excitement, there's also concern about the weather forecast, as there are predictions of rain on Sunday, the matchday.
The Asia Cup final between India and Sri Lanka is set to start from 3 PM IST on Sunday. However, there's a concern about rain interrupting the match. According to Weather.com, the forecast suggests a cloudy atmosphere with an 80 percent chance of rain throughout Sunday.
Luckily, there's a backup plan in case it does rain, there is a reserve day set aside just in case the weather doesn't cooperate on Sunday, 17th September.
Initially, only the Asia Cup final had a reserve day. But later, an extra reserve day was added for the intense Super Four match between India and Pakistan. This change in the rules was announced by the Pakistan Cricket Board (PCB), and they asked fans to hold onto their tickets in case the reserve day was needed due to rain.
If the Asia Cup final between India and Sri Lanka requires the reserve day, the match's duration will be the same as it was on the last ball of the first day. However, the organizers will do their best to finish the game on the originally scheduled day, even if it means making it shorter. They want to avoid using the reserve day if possible.
Rain caused a complete washout in Pallekele, Sri Lanka, during the first match between India and Pakistan in the Asia Cup 2023 group stage. To prevent a repeat of this, a reserve day was included for their Super Four match on September 10. While it proved to be a wise decision in ensuring the match produce a result, but it received criticism from many quarters.