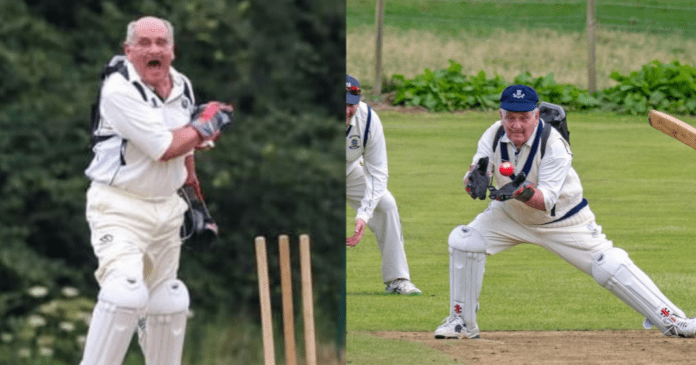 Having a genuine passion for sports allows individuals to transcend age and health challenges. Age should never be viewed as a limitation when it comes to engaging in athletic activities. Even at the remarkable ages of 80, 90, or even 100, people can actively participate in various field sports. This truth is exemplified by the inspiring story of Alex Steele, a former Scottish cricketer aged 83.
Recently, Alex Steele made headlines by participating in a local club match, showcasing his enduring love for the game. Remarkably, he donned an oxygen cylinder on his back while actively fulfilling the role of a wicketkeeper during the match. This extraordinary feat has captured the attention of many, as a video of Alex's performance, replete with the oxygen cylinder, continues to spread across social media platforms.
Following the widespread circulation of the video on social media, individuals expressed deep admiration for Alex's indomitable spirit. It's worth noting that Alex has been confronting Idiopathic Pulmonary Fibrosis, a respiratory ailment, since the year 2020. Medical doctors from that time suggested that he might only have a maximum of one more year to live.
Remarkably, Alex has defied these predictions, attributing his prolonged life and continued cricketing endeavors to his unwavering passion for the sport. Despite grappling with the challenges posed by his condition, which results in a notable scarcity of oxygen within his body and significant breathing difficulties, Alex has not only persevered but also excelled on the cricket field.
The respiratory disease he battles typically claims the lives of many due to the oxygen deprivation it causes. This fact underlines the exceptional nature of Alex's appearance on the cricket field, where he proudly wears an oxygen cylinder, symbolizing his triumphant defiance against the odds.
In an interview, Alex openly discussed his illness, revealing a remarkably positive outlook. He emphasized that his approach to any ailment centers on perspective and attitude. According to him, the way one perceives and manages a disease is what truly matters.
It's worth noting that Alex's cricket journey began with his debut against Lancashire at Old Trafford in 1967, marking his entry into first-class cricket. Across 14 first-class matches, he tallied a total of 621 runs, maintaining an average of 24.84.
This commendable performance included the achievement of two fifties. Throughout the late 1960s, Alex consistently contributed as a key player for the Scottish team in first-class cricket, showcasing his dedication to the sport. In 1969, he participated in a total of 6 matches.
In the year 1968, Alex Steele achieved his highest score of 97 runs during matches against Ireland. Remarkably, he also exhibited his skills as a wicketkeeper, successfully taking 11 catches and executing two stumpings.
Fast forward to the present, at the impressive age of 83, he once again graced the cricket field, donning an oxygen cylinder while performing his wicketkeeping duties. This awe-inspiring display of dedication has garnered widespread admiration and praise for Alex's unwavering passion and resilience.