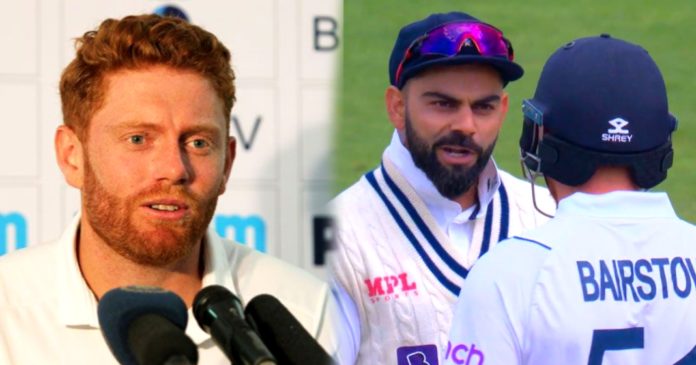 Former India captain Virat Kohli and England's explosive batsman Jonny Bairstow engaged in a heated exchange during the 3rd of the rescheduled 5th Test match being playing in Birmingham's Edgbaston cricket stadium.
In chase of India's total of 416 runs in the first inning, Jonny Bairstow alone scored 106 runs before was dismissed by Mohammed Shami as England were all-out for just 284 runs.
Bairstow has made a name for himself from the New Zealand, playing some quickfire knocks and scoring centuries to help his team. However, such was not the case against Team India though.
Bairstow got off to a slow start against the Indian team's bowling attack. He had scored just 13 runs from 61 balls. But then, he and former India captain Virat Kohli engaged in a war of words.
After that heated exchange, Bairstow just gone berserk and started hitting the Indian bowlers, completing his century from just 119 balls. However, even after his great inning, England were all-out for 284 runs in their first inning.
Meanwhile, Bairstow has opened up to the media about his relationship with Kohli after that on-field tussle. Bairstow stated that there is nothing between the two. He added that he has been fortune to play with him for the last 10 years. He jokingly added that he is pretty sure that he and Kohli will be having dinner at night.
"There was literally nothing. We've been fortunate to play against each other for ten years. So, I'm pretty sure we'll be able to have dinner. Don't worry about it," said Bairstow.
He signed off saying that playing a team like India is a always a tough job and he's happy to be a part of the match.