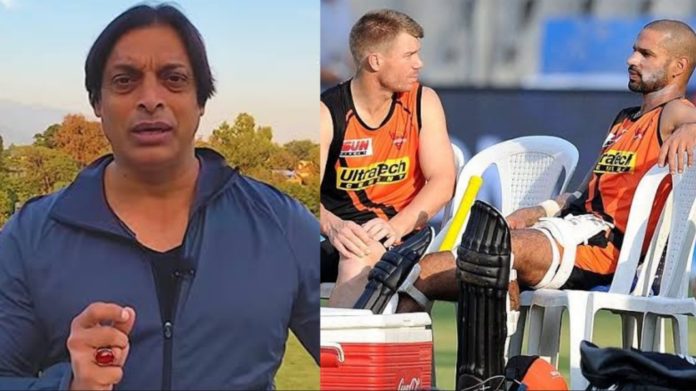 Former Kolkata Knight Riders fast bowler Shoaib Akhtar recently selected his all-time IPL XI. The former Pakistan star went with three West Indies players, one of them being Chris Gayle. Interestingly, he left out two of the most successful batters in the league's history, David Warner and Shikhar Dhawan.
In a recent interaction with Sportskeeda Cricket, Shoaib Akhtar formed his all-time IPL XI. The first two names on the team were Gayle and Mumbai Indians captain Rohit Sharma. While Rohit holds the record for the most number of championship wins by an IPL skipper, Akhtar decided against naming him as the captain of his team.
The number three batter of this team was former Royal Challengers Bangalore captain Virat Kohli, who had the company of his former Royal Challengers Bangalore teammate AB de Villiers in the middle order. Kohli, de Villiers and Kieron Pollard formed the middle-order of this team. The final West Indian player of the team was Andre Russell, who has been a match-winner for the Kolkata Knight Riders.
"At no. 3 my pick would be Virat Kohli. Yes, he is not going through a bad phase but that does not mean he is not a great player. He has scored so many runs in the IPL," said Akhtar.
As expected, the number seven position went to Chennai Super Kings skipper MS Dhoni. Here's what Akhtar had to say about Dhoni:
"At no. 7, I would pick MS Dhoni. He is a finisher, he is a hard-hitter too. He is also the captain. He is the leader of the team."
The four bowlers of his all-time XI were former Kolkata Knight Riders off-spinner Harbhajan Singh, current Gujarat Titans star Rashid Khan, former Punjab Kings pacer Brett Lee and former Mumbai Indians star Lasith Malinga.
Here is the all-time IPL XI of Shoaib Akhtar:
Chris Gayle, Rohit Sharma, Virat Kohli, AB de Villiers, Andre Russell, Kieron Pollard, MS Dhoni (c and wk), Harbhajan Singh, Rashid Khan, Brett Lee, and Lasith Malinga.