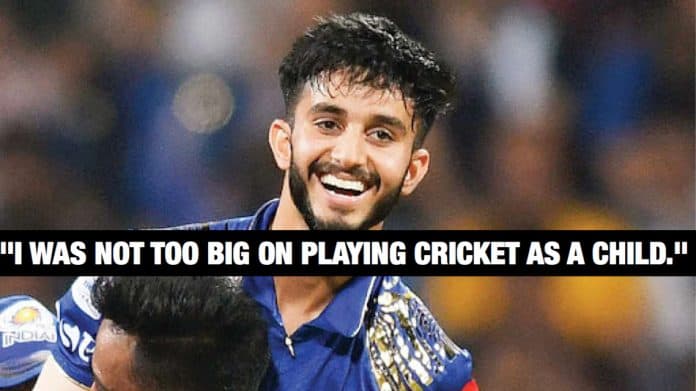 While speaking about the Indian Premier League, no one can deny the fact that it has been a great platform for new and upcoming young players. This league never failed in introducing such players to international cricket. As of now if a player performs well in IPL, he would be given a chance to play for his own country. Players like Washington Sundar, Yuzvendra Chahal and many more young talents were given a place in the Indian squad because of their outstanding performances in earlier editions of IPL. On that note, here comes a new young Indian player Mayank Markande.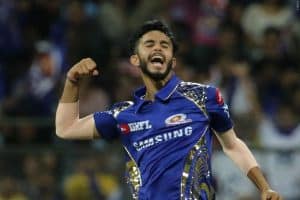 Markande: A new young talent this year
He currently plays for the Mumbai Indians in this edition of IPL. It was just a normal day for the Mumbai Indians in their first game against CSK but turned out to be a red-letter day for Markande. He grabbed the attention of his captain and teammates when he took the wicket of the legend Mahendra Singh Dhoni.
In his first match of IPL against CSK, he took 3 wickets in total including the important wickets of Rayudu and Dhoni. From then till now, whole eyes are on him in every match he plays for Mumbai. In fact, this moment has given him a great hope and confidence to get himself placed in the Indian squad. His performance streak continued even in his second match where he grabbed 4 wickets in total against the Sun Risers Hyderabad. Saha, Dhawan, Manish Pandey and Shakib Al Hasan were the ones who lost their wickets in his spell.
His initial days in cricket
He made his T20 debut for Punjab in the year 2018 at the age of 20. This was during the 2017-2018 Syed Mushtaq Ali Trophy played on 14 January 2018. After his debut in T20, he also appeared for the first time in List A cricket which was his debut match in that format of cricket. And this time also, he represented Punjab in the 2017-2018 Vijay Hazare Trophy played on 7th of February 2018. Later, he was picked up by the Mumbai Indians in the IPL Auction 2018 held on January 27 and 28 by a sum price of 20 lakhs in total.
We can look at his progression in the game of cricket by the way he has spoken about his life. While speaking to the official website of the Indian Premier League, he has mentioned how his journey started in cricket. He told that he used to sit back on a couch with his mom and watch the reruns from the IPL archives in television.
"Just a year back, I was seated on a couch with my mother and watching reruns from the IPL archives on TV. I always dreamt of being here and today I am here. Life can change, this is unbelievable!"
The relationship between Mayank and Rohit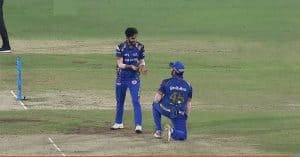 Mayank also spoke about the support he gets from his captain. He mentioned that he got full freedom and was given an advice to bowl the same way he does when he plays for Punjab. Moreover, he said that he enjoys bowling under his captaincy.
"I share a great rapport with our captain,  He likes to keep things simple and keeps telling me to bowl the way I would bowl for my state. He doesn't ask me to tinker with things too much. It works well for mE and I enjoy bowling under his captaincy."
Harbhajan- A legend of the game
When Mayank played for Punjab in List A cricket, he got a chance to play with Harbhajan Singh. This is where they met each other and thereby paved a way to learn a lot from the legendary Indian spinner. In the interview mentioned above, he revealed his moments with him and also called him as a legend of the game.
"This was the first year that I had the opportunity of meeting Harbhajan Singh. He supported me a lot when I was playing List A games for Punjab. ALSO helped me remain in a positive frame of mind throughout and would often speak to me about bowling plans. HARBHAJAN has immense knowledge about the game and I have managed to pick a few things from him. He is a legend of the game and I would want to meet him more often and pick his brains."
His childhood experience in cricket
During his childhood days, he was just a normal kid who used to play street cricket with his friends just like we did when we were young. Mayank acclaimed that, he wasn't too good at playing cricket as a child. He was playing it just for fun and tried to bowl fast deliveries even at that age.
"I wasn't too big on playing cricket as a child. I would just go and play for fun and try to bowl fast. Even then, I would bowl the back of the hand delivery – my googly very well."
Who made Mayank Markande as a leg-spinner?
Every cricketer would have gone through a turning point in their life. And this turning point should have given them an identity as a cricketer. As we all know, cricketer MS Dhoni got an identity as a wicket-keeper batsman because of his school PT teacher. Similarly, Mayank Markante turned a leg-spinner when Indian cricketer Jiwanjot Singh's father kept an eye on him. He even said that he doesn't have that kind of body to bowl fast.
"When I used to bowl at the nets to Reetinder Singh Sodhi, he would often find it difficult to pick me. I also didn't have the body to bowl fast so I turned to leg-spin. It was then when Jiwanjot Singh's father kept a keen eye on me that I turned full time to bowling leg-spin."
As of now, he is the proud owner of the purple cap which is awarded to the leading wicket-takers in every season of IPL. Mayank is also followed by 44.7K followers and still counting on Instagram which was just around 2000 before this league started. So what more? Can he retain the purple cap and win it this year? We have to wait and watch. Until then stay updated with SwagCricket.
Disclaimer: This article is written with reference to the interview of Mayank Markande published on the official website of the Indian Premier League.
Source: Interview of Mayank Markande to the official website of the Indian Premier League.
©SwagCricket2018.