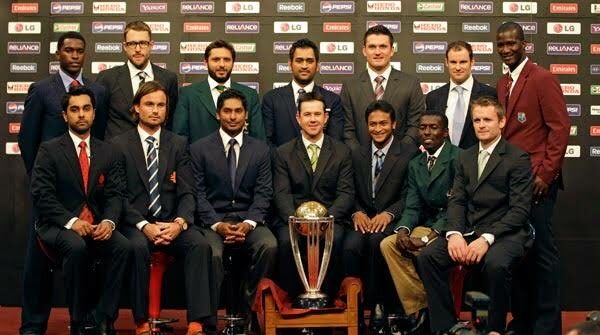 2011 World Cup was the last 50-over edition of the mega event hosted by Asia. India, Sri Lanka and Bangladesh co-hosted the mega event. Interestingly, host countries India and Sri Lanka qualified for the final, where the Indian team emerged victorious.
12 other teams participated in the tournament. In this article now, we will list down at all captains of the mega event and where they are now.
1. India captain in 2011 World Cup – MS Dhoni
Dhoni has retired from all formats of international cricket. The wicket-keeper batter still leads Chennai Super Kings in the IPL.
2. Sri Lanka captain in 2011 World Cup – Kumar Sangakkara
Kumar Sangakkara retired from international cricket long back. He currently works as a Director for IPL team Rajasthan Royals.
3. Australia captain in 2011 World Cup – Ricky Ponting
Ponting retired from international cricket in 2012. He works as a coach for Delhi Capitals in IPL and also does commentary in BBL.
4. Ireland captain in 2011 World Cup – William Porterfield
William Porterfield was active in ODI cricket until January 2022. He has now retired and turned up for Bhilwara Kings in Legends League.
5. South Africa captain in 2011 World Cup – Graeme Smith
Graeme Smith retired from cricket long back. He works as an administrator in Cricket South Africa and also does commentary.
6. Pakistan captain in 2011 World Cup – Shahid Afridi
Shahid Afridi played his last T20I match in 2018. He has retired from international cricket but plays in other T20 leagues.
7. New Zealand captain – Daniel Vettori
Daniel Vettori retired after the 2015 WC final against Australia. The former New Zealand captain works as an assistant coach for Australia and also played for Gujarat Giants in Legends League.
8. Netherlands captain – Peter Borren
Borren led the Dutch team at the mega event in 2011. He retired from international cricket in 2018 and is enjoying the second innings of his life.
9. England captain – Andrew Strauss
Andrew Strauss worked as a director of ECB after retirement. However, he stepped down from that position due to personal reasons.
10. Zimbabwe captain – Elton Chigumbura
Elton Chigumbura no longer plays international cricket. The all-rounder is actively playing T20 leagues and even turned up for Gujarat Giants in LLC.
11. Bangladesh captain – Shakib Al Hasan
Shakib Al Hasan is still the skipper of the Bangladesh team. The all-rounder is currently leading Bangla Tigers in Abu Dhabi T10 2022.
12. Canada captain – Ashish Bagai
Canada have disappeared from the top ICC events after the 2011 WC. Ashish Bagai now works as a management consultant.
13. West Indies captain – Daren Sammy
Daren Sammy has announced retirement from international cricket. He works as a commentator for ICC tournaments.
14. Kenya captain – Jimmy Kamande
Jimmy Kamande played his last game in the 2011 WC. He then tried his luck in coaching. Like Canada, Kenya have disappeared from ICC events.