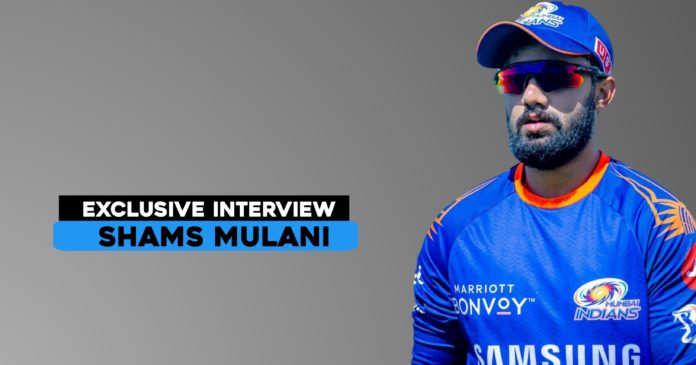 Mumbai domestic cricket team has produced many top-tier talents in Indian cricket history. Quite a few big names of world cricket started their careers playing for the Mumbai team. There is a reason why they are the most successful domestic team in Ranji Trophy history. One of the young and promising players in the current Mumbai team is Shams Mulani.
Born in Raigad, Mulani is a 24-year-old slow left-arm spinner and a left-handed batter. He joined the Delhi Capitals squad in IPL 2021 as a COVID-19 replacement for Axar Patel. While Shams did not make his IPL debut, he gained some valuable experience during his stint with DC.
For the record, he has played 11 first-class matches, 35 List-A matches and 25 T20s in his domestic career. He has scored a total of more than 1,000 runs and scalped more than 100 wickets in the three formats.
In an exclusive interview with Swagcricket.com, Shams Mulani spoke in detail about a lot of things related to his career.
Here are the excerpts from Interview with Shams Mulani:
Q. Hey Shams! How have you been doing? How was the year 2021 for you?
Shams Mulani: Hey! I'm all good. 2021 was a year filled with excitement plus a lot of new memories and a lot of learning.
Q. How was your experience of playing in Vijay Hazare Trophy?
Shams Mulani: I've been playing Vijay Hazare Trophy since the last five seasons and I am always honored to be a part of the Mumbai domestic squad whichever format I play.
Q. Congratulations on earning a place in Mumbai squad for Ranji Trophy. How excited are you for the return of red-ball domestic cricket?
Shams Mulani: Red-ball cricket is the toughest format of cricket and my favorite as well. It's always an amazing feeling to represent a team which has such a rich history in domestic cricket.
Q. You have played all three formats of domestic cricket. Which is the toughest format for you and why?
Shams Mulani: Red ball cricket is the toughest form.
Q. Let's talk about IPL 2021. You were a part of Delhi Capitals squad and interacted with many famous players. Which is your favorite IPL memory?
Shams Mulani: I think my favorite memory would be bowling to Steven Smith as he is one of my favorite players and bowling to him in the nets was an achievement for me.
Q. Ricky Ponting and Mohammad Kaif were in the coaching staff. Tell us something about your interactions with them.
Shams Mulani: Ricky sir was very good to me. He welcomed me very nicely in the team. I never felt like an outsider any time. With Kaif sir, I did a fielding session in which I really enjoyed his work ethics towards the game and his passion towards the players like it was the same like he was with the stars.
Q. If given a choice to play for an IPL team, which team would it be?
Shams Mulani: I would love to go in Mumbai Indians team.
Q. Tell us something about Prithvi Shaw. He will captain Mumbai in Ranji and you also shared Delhi Capitals dressing room with him.
Shams Mulani: I think he is a terrific player and a teammate. He's a guy who will support you as a captain as a friend on and off the field. Yes, I shared the dressing room with him in the IPL, but he never changes as a person playing in the IPL or the Mumbai team. He's a guy who is always available when you need him.
Q. You have dismissed many batters in your cricketing career. Which is your all-time favorite wicket?
Shams Mulani: I think KL Rahul will be one of my favorite wickets. I had dismissed him in the Syed Mushtaq Ali Trophy and it felt really amazing.
Q. What is your new year's resolution for 2022?
Shams Mulani: My new year's resolution is to work on my physical and mental health and grow as a person.