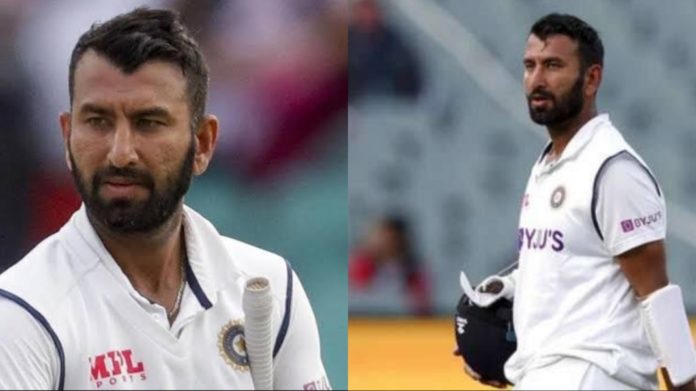 The first round of the 2022 edition of the Ranji Trophy is currently underway, and there is a battle going on at the Narendra Modi Stadium between the Mumbai cricket team and the Saurashtra cricket team. The Mumbai team posted a massive total of 544/7 on the first day, riding on a double-century from their star batter Sarfaraz Khan. Saurashtra had high hopes from veteran player Cheteshwar Pujara, but the right-handed batter got out for a duck.
The Mumbai team reached 544/7 in the first innings, with Khan top-scoring with 275 runs and veteran batter Ajinkya Rahane aggregating 129 runs off 490 deliveries.
Rahane returned to form in the Ranji Trophy, but his Indian Test teammate Cheteshwar Pujara could not get going. Harvik Desai and Snell Patel opened the innings for the Saurashtra cricket team.
Patel scored 35 runs off 64 deliveries, while Desai aggregated 21 runs from 65 balls. Vishvaraj Jadeja came out at number three but lost his wicket after scoring five runs. Cheteshwar Pujara was the next man in. Many fans believed that like Ajinkya Rahane, Pujara will score big and return to form ahead of the ICC World Test Championship series against the Sri Lankan cricket team. However, the same did not happen.
Mumbai bowler Mohit Avasthi trapped the veteran player in front of his stumps and sent him back to the dressing room before he could score even a single run. A half-century from Sheldon Jackson and a 40-run knock from Chirag Jani ensured that the Saurashtra team crossed the 200-run mark.
How fans on Twitter reacted after seeing Cheteshwar Pujara lose his wicket for a duck
Here's how Twitterati reacted to Pujara's dismissal:
Pujara dismissed for a duck in Ranji Trophy against Mumbai.

— Johns. (@CricCrazyJohns) February 19, 2022
MOHIT AVASTHI.
30 Yr old lad playing his 1st FC game for Mumbai running through the last Ranji Champion Saurashtra. V Jadeja, Pujara and Vasavada dismissed for 5, 0 and 8.

Its indeed never too late to dream. Ranji Trophy helping players fulfill dreams since 1934. #RanjiTrophy pic.twitter.com/fvPlnThSjz

— Abhinandan Nahata (@khelgyani_abhi) February 19, 2022
Cheteshwar Pujara goes for a duck against Mumbai#RanjiTrophy

— Subhayan Chakraborty (@CricSubhayan) February 19, 2022
‼️ Rahane scored 129 ‼️ Pujara gone on duck

Scenes 😹😹 pic.twitter.com/RCXqiKCisC

— Nick🖤🤗 (@fortyfive09ro) February 19, 2022
1144 days since Pujara's last test 💯 😢#RanjiTrophy pic.twitter.com/1qPZ7eOdYl

— َ𝗱𝗮𝗻ı_Î_𝗖𝗵𝗮𝗺𝗽§َ (@DanielSamsDolan) February 19, 2022
HUGE WICKET! Pujara gone for a duck. Mohit Avasthi carving out the top order. Lets out a huge scream after the finger goes up. Runs towards the fine leg in celebration! Sarfaraz stops him with a "udhar apna dugout nahi hai! " @sportstarweb pic.twitter.com/v3166tj66s

— Ayan (@ayan_acharya13) February 19, 2022
Literally anyone and everyone getting hundreds, double hundreds, triple hundreds… Meanwhile Pujara… pic.twitter.com/6dZWY3lJG9

— Saurabh Malhotra (@MalhotraSaurabh) February 19, 2022
Ajinkya Rahane scored a century.
Hanuma Vihari scored a century.
Shreyas Iyer scored a century the last time he played a test.
Cheteshwar Pujara scored a duck.

If you were to choose any two out of these four for the Sri Lanka test match in your playing XI, who'd they be?

— Mufaddal Vohra (@mufaddal_vohaa) February 19, 2022
Narendra Modi Stadium, Ahmedabad is the only venue where Cheteshwar Pujara has been dismissed for ducks in Test cricket as well as in Ranji Trophy.

He got out for a duck against England at Ahmedabad in Feb last year and now against Mumbai today. Both were lbw.#RanjiTrophy

— Rhitankar Bandyopadhyay (@rhitankar8616) February 19, 2022
February 19, 2022
Tough times for Pujji 😬😔

— Kaygee18 (@Kaygee1803) February 19, 2022
Mohit Avasthi got a brilliant nip backer. Pujara got out lbw against him. Surely it was a nip backer. Hits the deck hard. #RanjiTrophy

— Kaushik (@_CricKaushik_) February 19, 2022