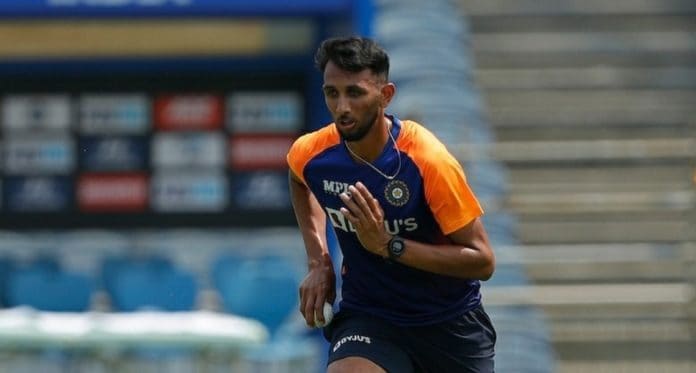 Prasidh Krishna has become the talk of the town after the Indian team management drafted him into the Test squad for the fourth game of the ICC World Test Championship series against the England cricket team. Krishna has made a name for himself with his brilliant performances for the Kolkata Knight Riders in the IPL.
Soon after, Prasidh received his maiden ODI cap, and he performed well for the Indian cricket team. Now, there is a chance that he could make his Test debut against the England cricket team. Many fans thought Prasidh Krishna was added to the Indian squad because of Ishant Sharma's disappointing performance in the previous Test match. However, the same is not the case.
In a press conference ahead of the fourth Test match, the bowling coach of the Indian cricket team, Bharat Arun informed that Prasidh Krishna was added to the squad only as a precautionary measure.
"He [Prasidh Krishna] has been included into the squad considering the issue of workload management. There's nothing more to it than that. Ishant's form in the last Test was a concern, but that's sorted out now. Prasidh Krishna is just a precautionary inclusion," Bharat Arun told the press.
All you need to know about the first-class career of Prasidh Krishna
Prasidh Krishna has played only nine first-class matches in his domestic career so far. The right-arm fast bowler has picked up 34 wickets, with his best figures being 5/49. His economy rate is 2.79 runs per over, while he has taken two four-wicket hauls and one five-wicket haul in his first-class career.
He made his first-class debut against Bangladesh A at Mysore on September 22, 2015. Now, almost six years after that, there is a chance that Krishna represents the Indian cricket team in Test matches. The fourth Test will start at 3:30 PM IST in London today.