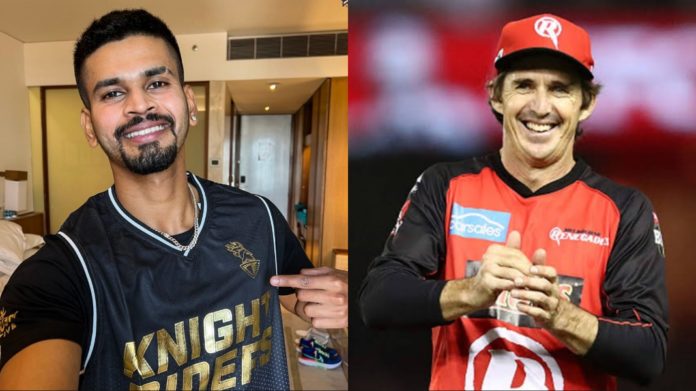 Former Australian spinner Brad Hogg has opined that the Kolkata Knight Riders made the best signing at the IPL Auction 2022 by roping in Shreyas Iyer. The former Delhi Capitals star was released ahead of the mega auction. As expected, there was an intense bidding war between the franchises at the IPL 2022 Auction to sign Iyer.
Ultimately, the Kolkata Knight Riders emerged as the winners of the bidding war as they signed Shreyas Iyer for INR 12.25 crore. Soon after, the Kolkata-based franchise named him as their new captain ahead of the 15th edition of the Indian Premier League.
Iyer is in excellent form ahead of the IPL 2022 season. In India's recently-concluded T20I series against the Sri Lankan cricket team, the right-handed batter batted at number three in former captain Virat Kohli's absence and scored three half-centuries in three games. His hat-trick of fifties ensured that the Indian cricket team's winning streak in T20I matches continued.
Speaking on his YouTube channel after the culmination of the T20I series between the Indian cricket team and the Sri Lankan cricket team, Brad Hogg said:
"They've (India) got the best spin depth as well. Their batters after the top 2 are just exploding. Iyer, how good is he! Best selection in the IPL Auction."
Shreyas Iyer will be keen to win his first IPL trophy in the 2022 season
IPL 2022 will start on March 26 in Mumbai and Pune. Many fans would know that Iyer plays domestic cricket for Mumbai, which is why it will be like a home tournament for him. The right-handed batter has been a part of the IPL since the 2015 season, but he has never won the championship.
Iyer will look forward to leading the Kolkata Knight Riders to their third title in 2022, and thereby winning his first-ever IPL title.