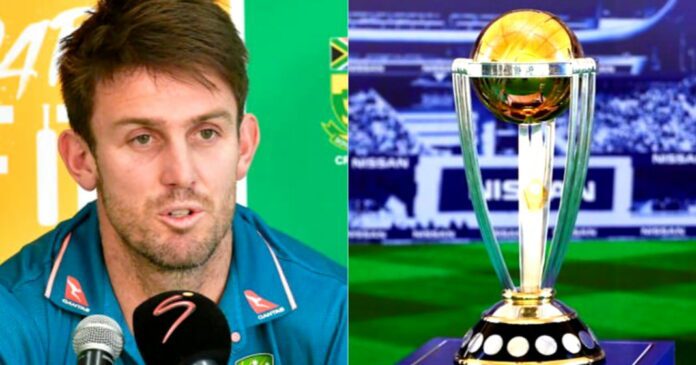 With less than a month now left for the big ICC Cricket World Cup 2023 India, which is scheduled to start from the 5th of October, the excitement is already building up among the players and the fans. Ticket sales have also begun already as the biggest spectacle of cricket is coming to India.
The ICC Cricket World Cup 2023 India will kick start with the last World Cup (ICC Cricket World Cup 2019) finalists England cricket team taking on New Zealand cricket team in the opening match to be played on the 5th October in Ahmedabad. Hosts India will play against Australia on the 8th October in Chennai.
Meanwhile, with the World Cup now fast approaching, the fans and the former cricketers are now predicting the finalists and winner of the ICC World Cup 2023. Recently, Australian cricketer Mitchell Marsh also joined the trend.
In a recent YouTube podcast, Mitchell Marsh, the Australian cricket star, shared a confident guess about who might reach the final of the ICC Cricket World Cup 2023 to be played in India. This podcast was a fun chat with cricket legends Adam Gilchrist and Michael Vaughan.
During the podcast, Michael Vaughan, one of the hosts, didn't mention Australia when talking about teams that could make it to the final of the big cricket tournament set to take place in India. This led him to ask Mitchell Marsh about his thoughts on the finalists.
Mitchell Marsh didn't hesitate and showed strong belief in his team. He predicted that Australia would not only participate in the World Cup but also make it to the final match. In that final, he foresaw Australia facing off against Pakistan. This bold prediction added some excitement and discussion among cricket fans around the world as Marsh completely overlooked hosts India, who won the last World Cup played in India, and defending champions England.
Marsh said, "I honestly think it would be Australia vs Pakistan in the final of ICC Cricket World Cup 2023 in India."
Australia's T20i Captain Mitchell Marsh thinks, it will be Australia vs Pakistan Final in #WorldCup2023 🏆 pic.twitter.com/emI3I4Eb69

— Basit Subhani (@BasitSubhani) September 8, 2023
Mitchell Marsh meanwhile is set to play a crucial role for the Australian cricket team in the World Cup. According to various reports, Marsh may open the inning for Australia and try to give a cracking start to the Aussies. His experience of long playing in the IPL would also come handy for the Australia all-rounder. Meanwhile, both Australia and Pakistan will square off in the league phase of the World Cup on the 20th October in Bengaluru.