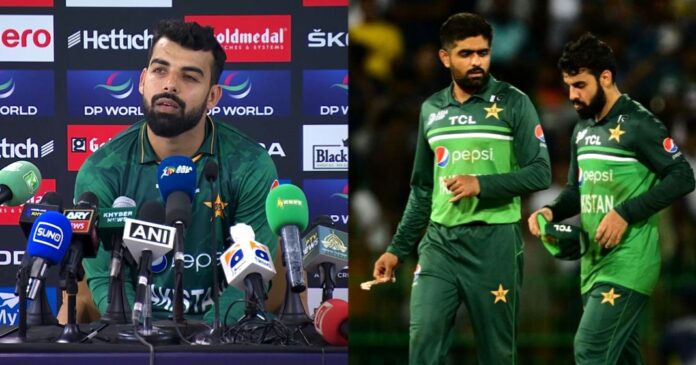 Pakistan cricket team, now the number 1 ranked ODI team, in the Asia Cup 2023, faced a heartbreaking departure from the Asian top tier competition last Thursday. Their hopes were dashed by Sri Lanka, who secured a tense two-wicket victory in what many dubbed a crucial match in Colombo, resembling a "semi-final" encounter for a spot in the final for the winning side.
As scrutiny intensifies around Babar Azam's leadership decisions during the tournament, a brewing controversy appears to be unfolding within the Pakistan cricket team.
Reports have surfaced indicating the emergence of a division within the dressing room, as certain players openly express their opposition to Babar Azam's captaincy.
In the aftermath of Pakistan's exit from the Asia Cup 2023, accounts of a heated confrontation between Babar Azam and pacer Shaheen Afridi within the dressing room have surfaced. Fortunately, the situation was defused with the intervention of Mohammed Rizwan.
Adding to the intrigue, Pakistan's vice-captain and star all-rounder, Shadab Khan, has now disclosed that he and his fellow teammates find it less than enjoyable to be in Babar Azam's company during matches. Shadab Khan notes that Babar Azam exhibits an entirely distinct personality in these high-pressure situations.
"We don't really enjoy with Babar Azam on the field because he is a different person altogether over there, but we do enjoy with him off the field," Shadab Khan was quoted by Cricket Pakistan as saying the same.
Previously, Babar Azam highlighted Shadab Khan's difficulties in securing wickets during the Super 4 stage of the Asia Cup 2023. During this phase, the spin bowling all-rounder could only muster two wickets.
Pakistan's aspirations for success in the ICC World Cup 2023 have been dealt a significant blow as their fast-bowling sensation, Naseem Shah, has suffered a shoulder injury. This unfortunate development casts a shadow of doubt over his participation in the prestigious tournament. Pakistan will begin its campaign in the ICC Cricket World Cup 2023 on the 6th of October against Netherlands. Following that, they will play India on the 14th of October.