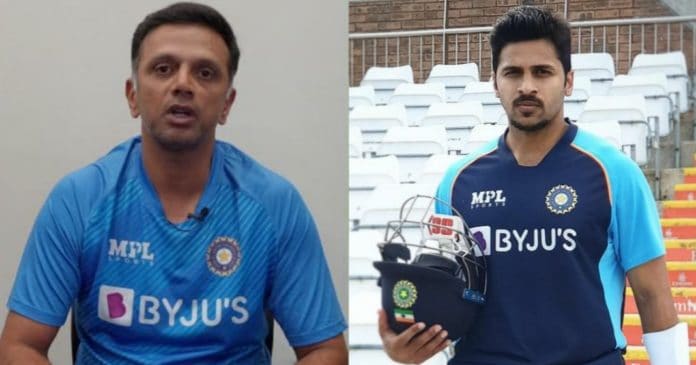 Indian cricket team's Head Coach Rahul Dravid has backed Indian duo of Deepak Chahar and Shardul Thakur after their contribution in the South Africa series.
The Indian team didn't had the best of South Africa series, first, they lost the Test series after winning the first match, while lost all 3 of the matches in the One Day International (ODI) series.
Team India's bowling and batting unit looked average throughout the series. Indian bowlers struggled to get wickets, while batting unit failed to contribute with big innings.
But, speaking to the press after the series conclusion, Indian team's Head Coach Rahul Dravid backed Indian duo of Deepak Chahar and Shardul Thakur, who both contributed with the bat and bowl.
Deepak Chahar scored a brilliant fifty in his first match of the series in the 3rd ODI, and took India close to victory. Whereas Shardul Thakur scored a 50 in the first match and scored 40 in the 2nd match to take India to a respectable score.
While speaking to press, Rahul Dravid stated that Chahar has shown that he has some really good ability with the bat whenever he has got an opportunity.
He then added that such players who can mainly a bowler in your team, but can contribute with the bat as well lower down the order, can make big differences.
He rounded off saying that Deepak Chahar and Shardul Thakur will be given further opportunities over the next years.
Rahul Dravid said "Deepak Chahar has shown his batting ability whenever he got the opportunity – he has got the good ability as well, I have seen him for India A matches as well – it's good to have players like Deepak, Thakur in the side – we would like to give them more games".

— Johns. (@CricCrazyJohns) January 24, 2022
As for the Indian team, the start 2022 has been pretty terrible for Team India, having lost all 5 of their matches in the year. Earlier on, the 2 Test matches, and now the 3 ODIs.
The next mission for India is West Indies, who travels to India in February to play 3 ODIs and 3 T20Is from the 6th of February.