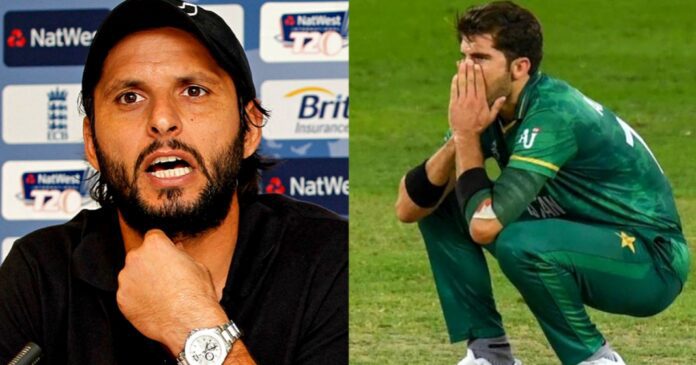 In a recent interview, Shahid Afridi, the former Pakistan cricket team captain, discussed Pakistan's decision to bowl first in their recent match against India after winning the toss. He also shared his disappointment with son-in-law Shaheen Shah Afridi's performance in that particular match.
Speaking exclusively to a local news channel, Afridi talked about the tactics involved in cricket and the challenges faced by bowlers in today's game.
Afridi started by addressing the hot topic of Pakistan choosing to bowl first after winning the toss. He acknowledged that many people on social media had questioned this decision. However, he gave his own perspective on the matter, stressing the importance of executing the bowling strategy effectively.
Afridi shared his perspective by stating, "From my point of view, if Pakistan had bowled with the same precision we saw from Naseem Shah at the beginning. However, Shaheen struggled with his line and length in that particular match. He seemed to face difficulties in hitting the perfect length and line. In the starting overs, when Shaheen couldn't secure early wickets, it became frustrating for him given his reputation for being an early wicket-taker."
Afridi suggested that maintaining consistency in line and length is crucial for Shaheen. He emphasized that it's not acceptable to become frustrated after a couple of unsuccessful overs. Instead, one should identify areas in cricket where improvement is needed.
Shahid Afridi advised Shaheen to refocus, noting that his second spell began well, indicating that he should concentrate on replicating that specific line and length. He stressed that getting a wicket isn't guaranteed every time but highlighted that bowling accurately increases the chances of taking wickets, especially with a new ball.
This is what Shahid Afridi has to say about Pakistan's defeat against India. Shaheen Afridi didn't bowl well like he usually takes early wkts,also bowling first was a right decision by Babar Azam. Listen what @SAfridiOfficial said further
spot on#AsiaCup2023 #PakvSL #PAKvIND pic.twitter.com/gQlbrrNtJP

— Maham Gillani (@dheetafridian__) September 13, 2023
Pakistan faced a significant loss in the third match of the Super 4 round during the Asia Cup 2023, against India. The Indian team was asked to bat first, who managed to score a formidable total of 356 runs, losing only two wickets in their first innings. In response, the Pakistan team was dismissed for a mere 128 runs during their innings, resulting in a substantial margin of victory for India by 228 runs.