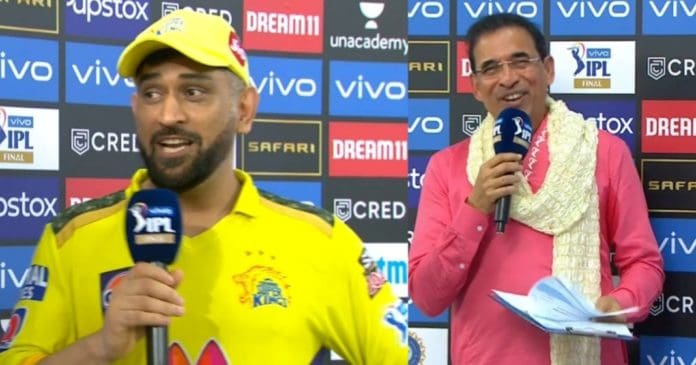 Chennai Super Kings completed a 27-run victory over Kolkata Knight Riders in the finals of IPL 2021 to lift the trophy for the fourth item. MS Dhoni also provided a cryptic update about his future in his trademark style. In this article, we take a look at how Twitter reacted to MS Dhoni's "Still I haven't left it behind" comment after the final of IPL 2021.
"Still I haven't left it behind"
CSK was the first team to be eliminated from IPL 2020. However, the MS Dhoni-led squad won IPL 2021 and therefore, completed a remarkable turnaround.
In the post-match presentation ceremony, MSD gave an update about his future. Harsha Bhogle said, "legacy you have left behind for Chennai Super Kings" and to this, Dhoni smilingly replied, "But still I haven't left it behind…". A couple of days ago, Dhoni said in a fan interaction event that he would like to play in Chepauk. One of the India Cements officials also reportedly confirmed that MS Dhoni would be retained. Now, MSD himself giving a hint has got the fans excited.
Twitter reacts to MS Dhoni's comment
MS Dhoni is the face of Chennai Super Kings. In Qualifier 1, he showed flashes of his previous self. However, he did not get a chance to bat in the final. The fans will be ecstatic if Dhoni continues to play. The followers in India could watch as IPL 2022 is likely to be held in India. We take a look at a few of the Twitter reactions to MSD's latest comment:
October 15, 2021
Harsha Bhogle: You can really be proud of the legacy you have left behind

MS Dhoni: (smiles): I haven't left it behind

Thank you @bhogleharsha for one of the best post match presentations.#IPLFinal

— Subhayan Chakraborty (@CricSubhayan) October 15, 2021
#MSDhoni
Harsha Bhogle: "You've left a great legacy behind"!
MS Dhoni: "Still I haven't left behind".💛

पिक्चर अभी बाकी है मेरे दोस्त pic.twitter.com/Ds3JW5mrc1

— ShikhaRai🍁✍️🇮🇳 (@mahifangirl07) October 16, 2021
This combination at the post match show never disappoints… @bhogleharsha @msdhoni.thanks for asking this question #bestmoment pic.twitter.com/hYy8Oe2Oti

— $Iv@ (@kola3siva) October 16, 2021
From definitely not to still haven't left behind…
Epic…!@msdhoni ❤️@ChennaiIPL 💛@bhogleharsha#CSKvKKR pic.twitter.com/aXcgT2WXQS

— Mohit Tiwari (@mohittiwari5398) October 15, 2021
MS Dhoni and Harsha Bhogle – What a combination ❤️

— Sameer Allana (@HitmanCricket) October 15, 2021
Harsha Bhogle: "And you can be so proud of the legacy that you've left behind for Chennai Super Kings, and they can build on it. Ladies and Gentlemen. What a man. What a leader. MS Dhoni."

Dhoni: "But still, I haven't left behind"#DefinitelyNotThisYearToo 💛

— Srikesh (@Srikeshhh) October 16, 2021
Those words at the end.. 🔥🔥🔥@bhogleharsha @msdhoni #ChennaiSuperKings #CSKvKKR #CHAMPIONS #Cricbuzz #CSK #WhistlePodu #IPLFinal pic.twitter.com/VaITpC9TOj

— Varun Harkut (@VarunHarkut) October 15, 2021
The two greats Harsha bhogle and MSD conversing at the end was so heartening to watch… @bhogleharsha #MSDhoni #cskvskkr2021

— Stranger300 (@Stranger3004) October 15, 2021
Harsha Bhogle: You can really be proud of the legacy you have left behind

MS Dhoni:#Dhoni #CSKvsKKR #CSK pic.twitter.com/F2tcB7Skz7

— Mridul Pal (@themridulpal) October 15, 2021
#IPLFinal
Harsha Bhogle: You've left a great legacy behind.

MS Dhoni: Still I haven't left behind. pic.twitter.com/lY8Uda87DY

— Sudhanshu Ranjan Singh (@memegineers_) October 15, 2021