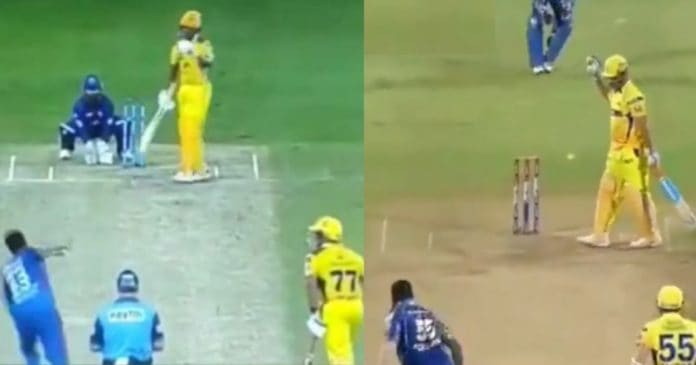 Ruturaj Gaikwad and R Ashwin were involved in an interesting battle in Qualifier 1 of IPL 2021. Both had a go against each other, albeit in a light way. In this article, we take a look at the Twitter reactions to CSK opener's Ruturaj Gaikwad's tit-for-tat act on R Ashwin in Qualifier 1.
CSK start well in the chase of 173
Delhi Capitals were put in to bat first and actually started well. However, with a few quick wickets, they were put under pressure. DC was playing a batsman short and hence, they promoted Axar Patel. However, the move did not pay any dividends. Later, Rishabh Pant and Shimron Hetmyer played responsibly to help DC post a total of 172 runs on the board.
Although they lost the big wicket of Faf du Plessis very early, Ruturaj Gaikwad and Robin Uthappa steadied the ship for CSK. They took calculated risks and put CSK in a winning position. After a long time, Robin Uthappa made a strong comeback with an impressive fifty. The DC bowlers, though, have been inconsistent in the game.
Ruturaj Gaikwad's Tit-For-Tat act on R Ashwin
In the ninth over of CSK's chase, R Ashwin pulled out of bowling after he looked like he had almost completed his action. Robin Uthappa was worried that Ashwin would "mankade" him. However, Ashwin did not do any such attempt.
In the next delivery attempt, although R Ashwin was very close to delivering the ball, it was the batsman Ruturaj Gaikwad who pulled out at the last moment. It was an interesting few minutes at the centre because two players were having a sort of a cold-duel within the game. Ruturaj displayed immense courage there to be himself while batting against an Indian legend. The duo did not have any words regarding this later on after the incident.
October 10, 2021
Ruturaj Gaikwad was ready with the stance, but Ravi Ashwin stopped and didn't bowl. Following up when Ashwin loaded the delivery, Gaikwad stepped away and didn't let Ashwin bowl.

— Mufaddal Vohra (@mufaddal_vohra) October 10, 2021
Ravi Ashwin and Ruturaj Gaikwad from 2021.

Kieron Pollard and MS Dhoni from 2012.

— ηαмαη – ICT 🇮🇳 CSK 💛🦁 (@Mr_unknown23_) October 10, 2021
Man!! Ruturaj Gaikwad is daring player stepping out against rashid khan , smacking bowl over Rabada's head and now he is doing Fun against Ashwin.#CSKvDC

— Yashwardhan Singh (@Ya7tweets) October 10, 2021
big fan of Ruturaj for what he did to Ashwin there

— Pranav (@pranavcondur4) October 10, 2021
Ruturaj should say sorry and apologise to senior player Ashwin.
Our values and culture should be protected in every level 🙏🚩

— Abhishek  ︎ (@ImAbhishek7_) October 10, 2021
Ruturaj showing Ashwin levels 🔥🔥😭😭

— Sankalp #LM7 (@SankalpRaikar77) October 10, 2021
I clapped for Ruturaj's comeback at Ashwin. Stadium feeling

— Prem SN Piramanayagam (@PremNTU) October 10, 2021
Ruturaj's Attitude over Ashwin!👌🏾😅
Rutu, you beauty!💥 #CSKvDC

— Ajit (@just_ajit) October 10, 2021
Ashwin playing mind games and ruturaj gaikwad giving befitting reply.😁#CSKvsDC

— Plata O Plomo (@BalterBite) October 10, 2021
That was cheeky from Ruturaj Gaikwad!😂 but then that is how you treat someone like Ashwin! Give them a taste of their own medicine. #CSKvDC

— Saahil (@saahilspeaking) October 10, 2021
Absolutely school level of cricket from Ravi Ashwin to pull out while bowling. Hopefully he doesn't go complain about Ruturaj Gaikwad to umpire #CSKvDC

— Aravind Koushik (@CheekyAravind) October 10, 2021
Ashwin is scared of Ruturaj 🤣🤣

— ChrisMorissgilluwa (@ChrisMorrisGill) October 10, 2021