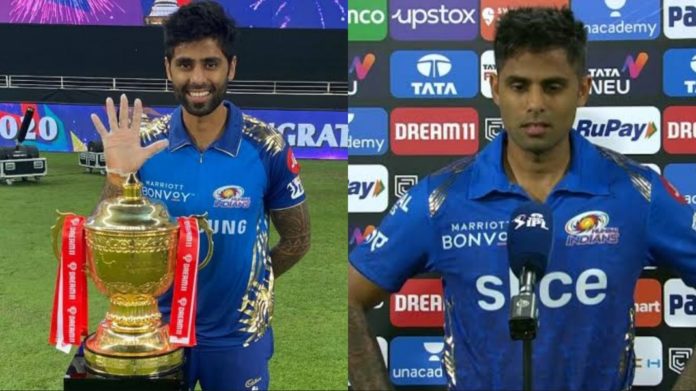 Mumbai Indians batter Suryakumar Yadav has made his intentions clear for the 2023 edition of Indian Premier League. The five-time champions finished last on the points table this year with only eight points from 14 matches. They lost eight matches on a trot, but finished the season well with four victories in their last six games.
In a video released by the Mumbai Indians earlier today, Suryakumar Yadav spoke about his aim for IPL 2023. He said that the team needs to work the hardest and win the trophy for the fans anyhow. Here's what he was quoted as saying by Sportskeeda Cricket:
"We've to lift the sixth (trophy) anyhow. It is unfortunate that this can't happen this year, fifth or sixth trophy, but next year, we have to add one more trophy anyhow."
Suryakumar Yadav recalled his chat with Rohit Sharma during IPL 2020
Back in 2020, Suryakumar Yadav had not made his international debut, but he was one of the top performers for the Mumbai Indians in the IPL. The Indian cricket team was scheduled to tour Australia for a full-fledged series against the Aussies after IPL 2020. Many fans expected Yadav to be a part of that squad. However, he did not receive a place.
Talking about that incident and the chat he had with Mumbai Indians skipper Rohit Sharma, Suryakumar had said:
"When my name was not included, it was like, 'How did this happen?' I was playing well for the last 2-3 years. Rohit bhai also asked me, 'Are you disappointed?' And I was like, 'Kya bolu abhi?' (What should I say?)."
Suryakumar knows how to bounce back from setbacks. He has done that in his international career, and now that Mumbai Indians suffered a setback in IPL 2022, the fans will hope that Yadav will inspire a comeback and guide MI to their sixth trophy.