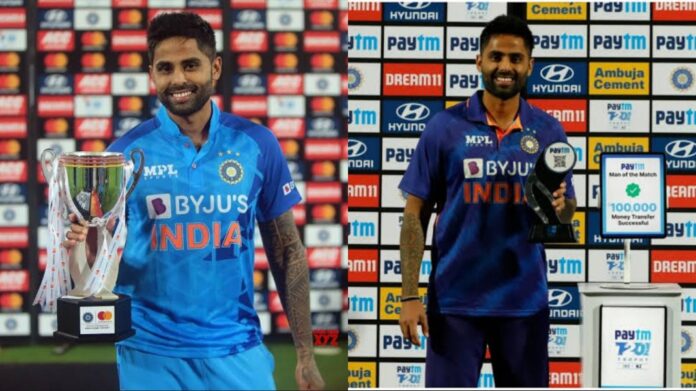 Winning the Man of the Match award in T20I cricket is a tough task because it is a format that needs the player to innovate consistently and outwit the opponent. At the same time, basics are also important in this format, and the player who manages to blend the aforementioned components to perfection in his game becomes successful in T20I cricket.
All nations have played a lot of T20I cricket since 2021. The reason behind it is that there are three T20 World Cups in 2021-24. Two have already happened in 2021 and 2022, and the next one will take place in West Indies and the USA in 2024. India made it to Super 12s in 2021 and semifinals in 2022.
While India's performance at the mega event was not the best, the Indian players played a lot of T20I matches since 2021. Here's a list of the top three players who have won the most Man of the Match awards for the Men in Blue since 2021.
3. Bhuvneshwar Kumar – 3 Man of the Match awards
Indian pacer Bhuvneshwar Kumar played an integral role in India's T20I series wins during the last two years. He has lost his place in the team now, but Kumar did his job well, winning three Player of the Match awards.
2. Virat Kohli – 3
Current Indian batter Virat Kohli also features on the list. Kohli, who struggled for form, is above many cricketers on this list with three Player of the Match awards. His best performance came against Pakistan in T20 World Cup 2022.
1. Suryakumar Yadav – 11 Man of the Match awards
Most Player of the Match for India since 2021 (men's T20I)

11 – Suryakumar Yadav
3 – Virat Kohli
3 – Bhuvneshwar Kumar
2 – Yuzvendra Chahal
2 – Deepak Hooda
2 – Ishan Kishan
2 – Shreyas Iyer
2 – Ravindra Jadeja
2 – Dinesh Karthik
2 – Hardik Pandya
2 – Axar Patel
2 – Rohit Sharma

— Kausthub Gudipati (@kaustats) January 29, 2023
Suryakumar Yadav is at the top of this list with 11 Player of the Match awards. Yadav has achieved mastery in this format. He made his debut in 2021 against England and has been unstoppable since then.