Kolkata Knight Riders might have to build their squad from scratch from IPL 2022. Since IPL 2018, the franchise has not been at their best. Especially with regards to captaincy and the batting order, KKR has been poor. Here, we discuss five cricketers KKR might retain before IPL 2022 Mega Auction.
It is likely that KKR might not exercise to fill their quota ahead of IPL 2022 Mega Auctions. The franchise might employ a strategic move of retaining one or two key players and then building on from there. On that note, here is a look at the players KKR might retain.
1. Andre Russell
While it would not be a surprise if KKR does not retain any player, it would be a bad move if Andre Russell is released. He is a complete T20 cricketer, and as seen in the past, on his day, it's hard to stop him. It is just that in the last two seasons, he has not been surrounded by the right set of people and decisions. If KKR wants to start afresh, he is the man whom they can build their squad around. Quality all-rounders are anyways hard to procure in IPL, and hence, KKR might retain the West Indian before IPL 2022.
2. Shubman Gill
Shubman Gill is one of the cricketers KKR might retain before the IPL 2022 Mega Auction. Yes, he might not be in form but he is still young and has got the skill to crack the T20 format. A domestic batsman of the quality of Gill can be hard to hire when he is in the auctions. Hence, KKR should wisely retain him and provide him with more confidence and responsibility. To start with, he could just be paired with a more attacking partner at the top and half the problem can be solved.
3. Varun CV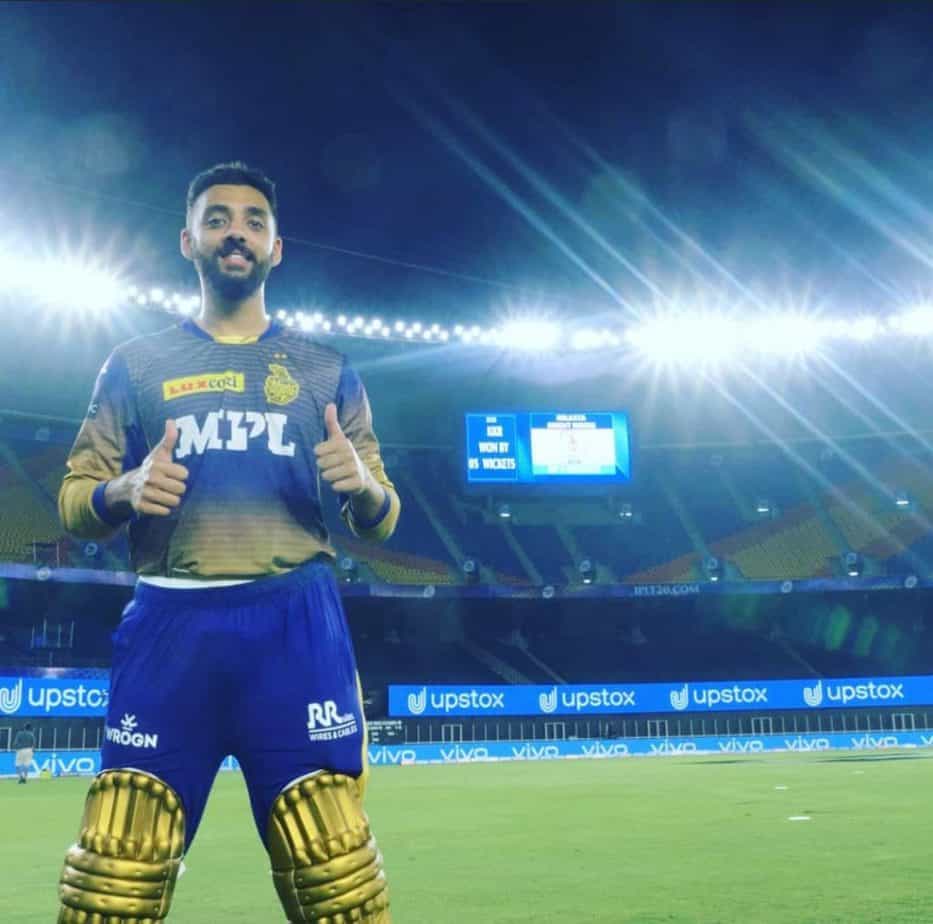 In the past, IPL has given franchises to retain uncapped players, as well. If he remains uncapped for a few more months, KKR is likely to retain Varun CV. However, if he makes his India debut, which looks likely, KKR might make use of the RTM card to buy him back. Any way, KKR should retain Varun because he is an impact cricketer in this format. He is hard to pick from a batsman's perspective and is a very good option during the middle-overs.
4. Nitish Rana – One Of The Uncapped Cricketers KKR Might Retain
Nitish Rana is unlikely to make his India debut in the upcoming months. Hence, he is one of the cricketers KKR might retain in the uncapped quota. It will be a big advantage for KKR to retain Rana this way. The Delhi player is experienced in the competition and would be subject to a bidding war at the auctions. KKR now has the chance to retain him before that, and that too, at a relatively lower price. That said, he also needs to be given a clear role to be successful in the XI.
5. Eoin Morgan – Might Be Retained If He Does Well At T20 WC
Eoin Morgan is a good T20 cricketer and a captain but somehow has not fired for KKR. Nevertheless, his form is the same with the England Team too and if he can re-discover his form during the T20 World Cup, KKR might as well retain him. With him in the squad, the franchisee need not worry about the No.4 position. He could as well turn the tide with regards to captaincy. Hence, there is still a chance for Morgan at KKR.