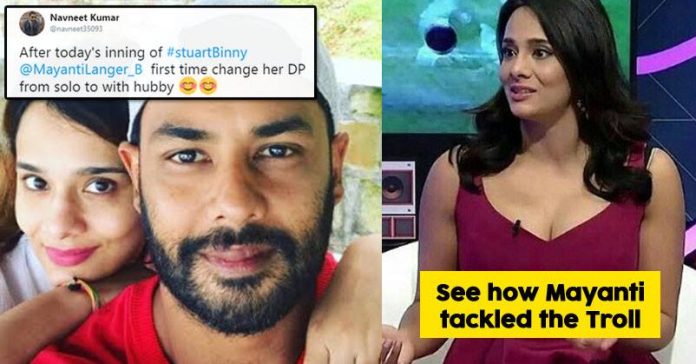 Cricket is one of the most popular sports in the world and once a cricketer plays at the international level, he gains a massive fan following. There have been players like Virat Kohli, Rohit Sharma, MS Dhoni who have stayed in the Indian team for a long time while there have also been players who could not play more than 10 matches for India.
The second category of players are often subject to trolls and the meme community trolls them brutally because they are soft targets. One such player is Stuart Binny who was immensely talented yet could not maximize his potential at the international level. Binny is married to Star Sports anchor Mayanti Langer and just like Virat Kohli-Anushka Sharma, the pair of Mayanti and Stuart has been trolled on social media.
A lot of trolls tested the duo's patience and here are the 5 instances where she hit back at the trollers.
Mayanti Langer hits back at her dressing sense trolls
Talking to Shibani Dandekar in a recent interview, Langer stated that her dressing sense has been a meme topic often. She said, "There was an article written about me, about wearing 5-inches heels and wearing skirts and wearing sleeveless and wearing this and why can't I wear Indian clothes and why can't I wear pants and suits and I'm like what's your problem if I want to wear 5-inches heels."
Stuart Binny's whereabouts
Stuart Binny played a match-winning knock for Rajasthan Royals against Kings XI Punjab in IPL 2019 and Langer silenced all his critics with the following tweet.
Sorry that you seemed to have missed #KXIPvRR on @StarSportsIndia you can join us on #MarutiSuzukiCricketLive on SS 1/2/Hindi/HD and of course @hotstartweets Cheers 👍🏼 https://t.co/Jv59z4xOXZ

— Mayanti Langer Binny (@MayantiLanger_B) April 16, 2019
Whatsapp Display Picture
After the same match, a fan mentioned that Stuart Binny's 11-ball 33 has helped him become a part of Mayanti Langer's Whatsapp DP finally and here's how she responded.
Really Navneet? Considering you don't have my number you don't know what the picture actually is 🤭 but thanks a ton for digging out this one, it's a super pic 👍🏼 https://t.co/kgmgm6qBhT

— Mayanti Langer Binny (@MayantiLanger_B) April 16, 2019
After her husband got dropped
Stuart Binny's poor form led to his ouster from the Indian team and when the selectors announced India's ODI squad for South Africa series, a fan tagged Mayanti Langer in that post. However, she gave him a professional reply and wrote: "You do realize that's not me right? I request you not to tag me. Thanks."
Relationship with Stuart Binny
There had been multiple questions from Mayanti's trollers asking why she settled for Binny and some fans even asked her to file a divorce after Binny's bad performance. However, she silenced every one by sharing a wonderful picture with her husband on Instagram asking people to be sensitive.