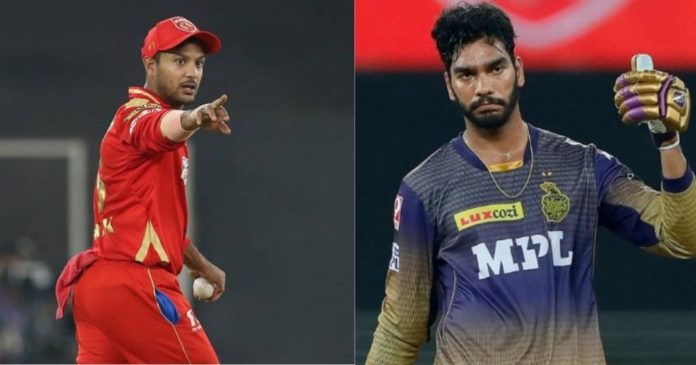 On Tuesday, all teams announced the final list of retentions before IPL 2022 Auctions. There were plenty of surprises along with a few expected decisions. In this article, we take a look at five players who could have gone for a lesser price if they were released to IPL 2022 Auctions.
At times, franchises might overvalue a player while retaining them. A team has to be smart at the auctions to get the players they want. However, we have seen a few franchises make a mistake while retaining a player who might have cost lesser at the auctions. Of course, there will be competition for a player at the auctions, but taking a risk could be important on certain occasions.
1) Mayank Agarwal – INR 14 Cr (PBKS)
With KL Rahul unavailable, Punjab Kings had no option but to retain Mayank Agarwal. The Karnataka opener is a fine cricketer, but it is unlikely that he would have commanded INR 14 cr at the auctions. If Punjab was ready to spend that money on him, they could have done that at the auctions. In that case, they might have profited if Mayank went for less than his estimate. The extra money could have been used to strengthen another area.
2) Kane Williamson – INR 14 Cr (SRH)
Although Kane Williamson is the central figure at SRH, he could have been available at a lower price at the auctions. INR 14 cr seems to be too high for a cricketer who operates as an anchor. Yes, he is the skipper, but overseas captains are always a liability, and more options could have been available in the market. Hence, it seems that SRH missed a tricky by overvaluing the Kiwi skipper.
3) Axar Patel – INR 9 Cr (DC)
Axar Patel has been a terrific performer in recent years. Although he has the tag of an all-rounder, the Gujarat cricketer has hardly proven his batting skills in recent IPL seasons. At most, Axar can bat at No.7 in an IPL playing XI. Yes, he might have an impact with the ball but he is not in the category of Rashid Khan's or Sunil Narine's. Hence, it was surprising that Delhi retained him for INR 9 cr when they could have got him for lesser at the auctions.
4) Venkatesh Iyer – INR 8 Cr (KKR)
Venkatesh Iyer's profile of being a domestic left-handed opener who bowls medium-pace is extremely tempting for an IPL franchise. He backed it up with a fine show in IPL 2021. However, the sample size is too low for him to be judged so early. In fact, he is yet to get a chance to show his skills in India. Therefore, it was surprising that KKR retained him at INR 8 crores.
5) Varun CV – INR 8 Cr (KKR)
Varun CV has already breached the 8 cr mark before, but it is doubtful if he would have done the same if he was released to the IPL 2022 Auctions. He is injury-prone, and as seen in T20 WC, he can be ineffective at times. His fielding is also not great and adds value only in one department. Therefore, KKR might have got him for less at the auctions.