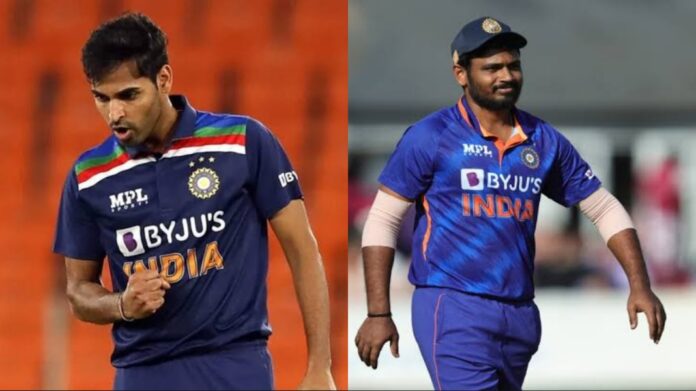 The India vs. New Zealand T20I series will get underway this Friday. It will be a three-match series, where the Men in Blue will aim to continue their dominance over the Blackcaps in bilateral T20I cricket. India beat New Zealand 5-0 in 2020, 3-0 in 2021 and 1-0 in 2022.
New Zealand will aim to avenge those losses, but they will find it extremely challenging to defeat India in India. There are some new faces in both squads for the upcoming three T20Is. Hardik Pandya will captain India, while Mitchell Santner is the skipper of the visitors.
The last series between India and New Zealand happened in November 2022. Interestingly, six Indian players who played in that series are not a part of the upcoming T20Is. Here's a list of those six Indians.
1. Rishabh Pant played in the 2022 series
Rishabh Pant played two matches during the tour of New Zealand, where he aggregated 17 runs. The wicket-keeper batter had an accident soon after the tour, which has ruled him out of cricket.
2. Sanju Samson was in Indian squad for 2022 series
Sanju Samson was in that Indian squad, but he did not get a chance to play. The wicket-keeper batter is currently injured and will miss the upcoming T20Is.
3. Harshal Patel played 1 T20I in 2022 series
All-rounder Harshal Patel bowled 3.4 overs in the only game he played against New Zealand and returned with figures of 1/28. He is not present in the squad for the upcoming series.
4. Bhuvneshwar Kumar
Veteran Indian fast bowler Bhuvneshwar Kumar has lost his place in the Indian T20I squad. He played two T20Is against the Blackcaps in 2022, scalping one wicket.
5. Mohammed Siraj
Mohammed Siraj was on fire in the last series against the Blackcaps as he took six wickets in two matches. It seems like the selectors have rested him for the upcoming series.
6. Shreyas Iyer
Shreyas Iyer scored 13 runs in two innings against the Blackcaps last year. He is currently injured and will miss the upcoming T20Is.