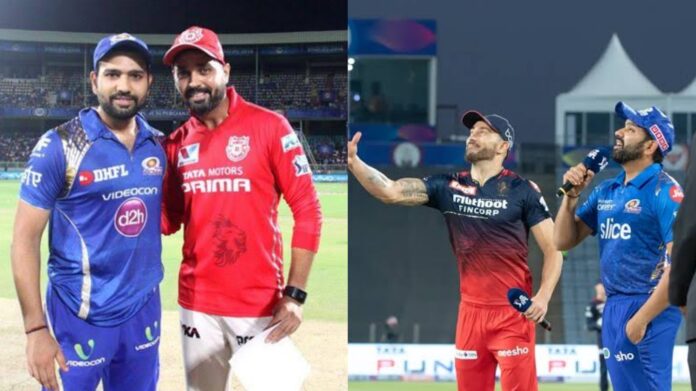 Rohit Sharma is the most successful IPL captain in terms of winning trophies. The current Mumbai Indians captain has led his franchise to five title wins – 2013, 2015, 2017, 2019 and 2020. Not many captains in the world can say that they have achieved similar success as Rohit.
However, fans should note that even though Rohit Sharma has won the highest titles as captain, it does not mean that his team has been invincible in all matches across all seasons. There have been some skippers who have a 100% win record against Sharma. Here's a list of those seven captains.
(Stats Credit: Shebas)
1. Adam Gilchrist never lost against Rohit Sharma in IPL
Adam Gilchrist and Sharma won IPL 2009 together with Deccan Chargers. In 2013, when Sharma's MI met Gilchrist's Punjab, Gilchrist's team emerged victorious.
2. Faf du Plessis is yet to lose against Rohit Sharma in IPL
Faf du Plessis led RCB for the first time against Rohit's MI in 2022. Anuj Rawat's brilliant batting helped RCB win that game. It was the only MI vs RCB clash of 2022.
3. Ravindra Jadeja is yet to lose against Rohit Sharma in IPL
Ravindra Jadeja captained CSK in the first El Clasico contest against MI in 2022. MS Dhoni's epic finish helped CSK win that game.
4. Murali Vijay
Punjab Kings have troubled MI in many seasons. Murali Vijay captained the team during 2016-17, and during that time, Punjab beat MI once.
5. Mayank Agarwal
Mayank Agarwal captained the Punjab Kings in 2022. Under his leadership, PBKS recorded a win against MI during the league stage.
6. Kumar Sangakkara
Kumar Sangakkara led the SunRisers Hyderabad in a few matches during the 2013 season. In that season, SRH beat MI under Kumar's leadership once.
7. Ajinkya Rahane
The only captain to have a 0-3 win-loss record against MI is former Rajasthan Royals captain Ajinkya Rahane. Rohit's MI lost all three matches against Rahane's RR.