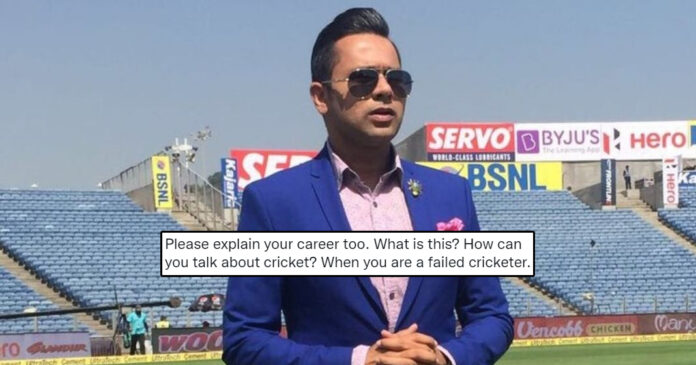 Aakash Chopra made his name on the international stage for his low-risk batting approach and ability to see off the new ball. However, it had a short cricketing career as he presented India in 10 matches and could only play seven IPL games before calling it off in 2015.
Post the retirement, Chopra entered into commentary and over the past few years, he has become one of the most renowned voices in the game. His attractive phrases and mixed pinch of voice make the game more appealing. Apart from doing commentary, he also regularly posts and engages with fans on social media platforms.
Recently, a user on Twitter tried to troll the former Indian cricketer indicating at his not-so-successful cricketing career. "Please explain your career too. What is this? How can you talk about cricket? When you are a failed cricketer," the caption read. However, Chopra shut down the hater with a savage reply.
"I googled you…found no career in cricket or otherwise. Going by your logic, how can you talk about me?? When you a ________ person in life? On a serious note : get a life, my friend Love you," Chopra tweeted.
India preparations for T20 World Cup
India won their first warm-up match against Western Australia XI on Monday and will play their second, which is also their last, warm-up game on Wednesday before heading into the tournament. It will be interesting to see if Virat Kohli and KL Rahul, who missed the last unofficial match, will be in action or not.
The Men in Blue will kick-off their campaign against arch-rivals Pakistan on October 23 and will look to avenge the humiliating loss they received from the Men in Green in the 2021 T20 World Cup.