The Royal Challengers Bangalore team has been a part of the Indian Premier League since the inaugural edition of the tournament that happened back in the year 2008. Some of the greatest players of the game have represented Royal Challengers Bangalore in the Indian Premier League. Unfortunately, the Bangalore-based franchise has not won a championship yet. But they have done many unique things in the IPL, and one of things RCB has done is appointing a female member in support staff. RCB Massage Therapist, Navnita Gautam.
Many fans would have noticed that Navnita is in the dugout or in the balcony during the matches of the Royal Challengers Bangalore team. Also, she was spotted in the full team photo of the Royal Challengers Bangalore. Not many fans would know that the RCB Sports Massage Therapist joined in the year 2019 only. At that time, she became the first and only female to be a part of the support staff of any of the 8 IPL teams.
Bold Diaries Women's Day Special: Navnita Gautam

Breaking stereotypes, Navnita Gautam, our ever-smiling athletic therapist, made a mark last year by being the only woman in the support staff of an IPL team. We're proud to have you in our team, Navnita.#PlayBold pic.twitter.com/1JU6RqPJFS

— Royal Challengers Bangalore (@RCBTweets) March 8, 2021
Navnita Gautam has a lot of experience in this profession. Before joining the Royal Challengers Bangalore support staff, she had worked with Toronto Nationals team in the Global T20 Canada. Also, she has served as a support staff member for the Indian Women's Basketball Team during their Asia Cup campaign.
"It's like having 20 brothers around at all times"- RCB Sports Massage Therapist Navnita Gautam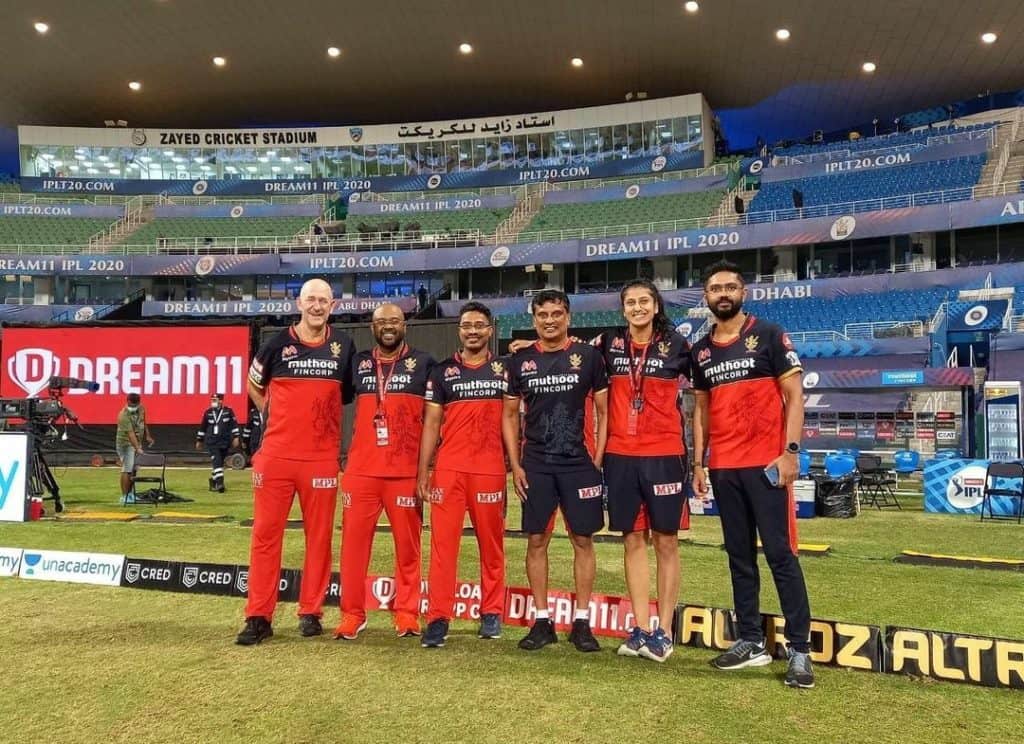 During an interview with ESPNCricinfo, RCB Massage Therapist Navnita Gautam had said that she did not have any apprehensions of working with the male teams. Here's what Navnita had said:
"Absolutely not. It's like having 20 brothers around at all times. Slowly but surely, the transition is happening. I believe that as long as the players and support staff trust your work, gender shouldn't be an issue as we are all healthcare professionals."