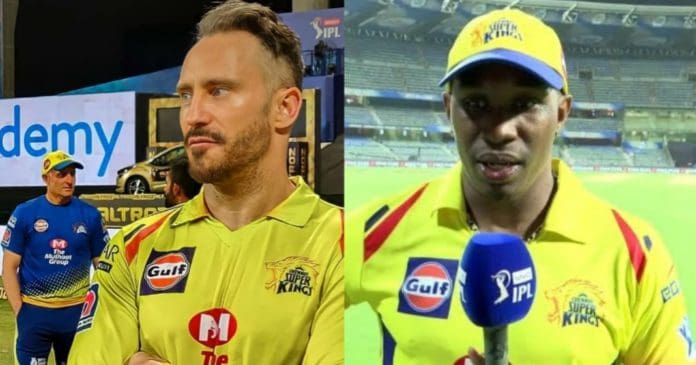 The IPL retention show is gone past us as all the existing 8 teams have announced the names of the players they have retained. Following Chennai Super Kings (CSK) opting to not retain Dwayne Bravo and Faf du Plessis, both the players took to the social media to react to it.
For the last 30 days, fans were quite eager to know whom their favourite Indian Premier League (IPL) team is retaining ahead of the IPL 2022 Mega Auction.
And the curiosity was not only among the fans, but the players as well as were also eager to know whether their current IPL franchise would retain them or not.
On the retention show, each franchises almost made big decision to release some of their top players. In this case, Chennai Super Kings retained Ravindra Jadeja, MS Dhoni, Ruturaj Gaikwad and Moeen Ali, however, opted to not go with their long serving players Dwayne Bravo and Faf du Plessis.
Both the players then took to the social media to react to the Chennai Super Kings' decision to not retain them. In a Twitter post by CSK's official Twitter handle, Dwayne Bravo and Faf du Plessis reacted with their replies to the team.
Faf du Plessis and Dwayne Bravo reacts to being released by CSK during IPL Retention
While Dwayne Bravo, who is famously known as the DJ Bravo to his fans, reacted with sending Congratulation to the retained player and the team. South African international cricketer Faf du Plessis replied with some clapping emojis, appreciating the team's retentions.
December 1, 2021
Chennai Super Kings won the IPL 2021 by defeating the Kolkata Knight Riders in the final at the Dubai International Cricket Ground in Dubai. And as a champion team, it is always very hard to release your whole squad.
Faf du Plessis, Dwayne Bravo IPL Record
Faf du Plessis was one of the best player of not just CSK but one of the best player in the IPL 2021, losing out the Orange Cap to his fellow teammate Ruturaj Gaikwad as he scored 633 runs, 2 runs less than Gaikwad.
While Dwayne Bravo has always been a key member of the CSK family. He was picked by CSK in 2011 and has been associated with the team ever since. He picked up 14 wickest in the IPL 2021 from 11 matches. He has played 151 matches in the IPL history and has scored 1537 runs and has taken 167 wickets.